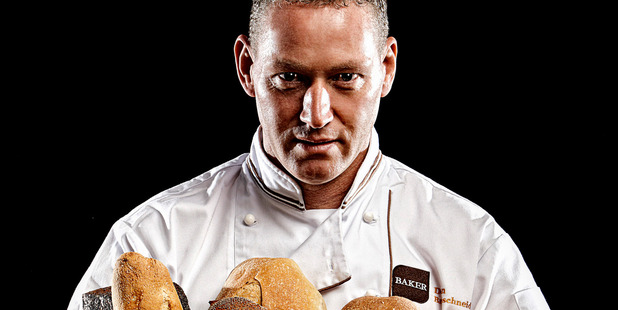 Passion is his main ingredient, says Dean Brettschneider, New Zealand's "Global Baker". Brettschneider, who loves baked beans (admittedly jazzed up) and dislikes chocolate, has more than 25 years' experience in the food industry and has this week released a mouthwatering collection of recipes in a book simply called Bread.
The book has more than 60 bread recipes and Brettschneider leads the reader through with simple step-by-step instructions.
"Anyone can make breads," he says. "All you need are hands, passion and a healthy mind."
I asked Brett a few questions about where to start and what was needed to make the perfect artisan loaf.
Can anyone make bread, or is it something only an experienced cook should undertake?
Anyone can make breads. Sometimes it is as simple as starting with a scone then moving on to prefect a simple white loaf.
What are your five top tips to the perfect bread?
• Understand the kneading technique (using my technique from the Bread book). Less is more in terms of kneading. Watch the QR Code video in the book, page 29.
• Don't be scared of wet dough (doughs that seem sticky to touch; the stickiness will go away during kneading).
• Don't be tempted to add too much flour to your dough.
• Practice makes perfect — so keep on practising.
• Have a nice hot oven — 230C is a good temperature for non-sweet dough.
As a beginner, what recipe should I start off with?
Scones or a quick bread (soda bread). Then move on to pizza dough and then focaccia and finally a simple white bread in a tin or cob shape.
What equipment do I need?
Hands, passion and a healthy mind — then a good set of digital scales, dough scraper, big mixing bowl and a good oven.
How did you decide on the recipes in this book?
I've broken it down into sections driven by what people like to make (sourdough, savoury, grains/healthy, sweet, festive, quick breads, etc). So there is a bread for all needs, from complex to simple.
And what is your favourite recipe in this book?
Has to be the pain au levain (sourdough). So, so simple but very complex in terms of crust, crumb, texture and flavour. Also love the NYC sticky pecan buns. Actually, they are all my favourites.
Tell us a little bit about your busy, and global, life?
I do what I do because of people; I have a great team of people globally bringing my vision to life. A lot of travel, almost every 10 days on average, meeting people, educating cultures with my style of baking, plus filming television shows all over the world. My last one in April was in Krakov, Poland.
What led you to a career in baking?
I always wanted to do something in food and baking came along first, so here I am — a global Kiwi baker boy, doing good. My nana was a great home baker so I learned a lot from her. I also find baking easy, which pushes me to learn more both practically and technically.
What is the first thing you baked?
Scones with my nana. She taught me about gluten (protein in flour), on how to handle it to get the best out of it. Baking is all about your hands, connecting with your brain and passion in your heart.
Who has been the biggest influence in your life?
Hard question, as many people come along at various times to contribute, but Rick Stein has become a good friend and also an influence in what I do.
How do you relax?
Umm ... I don't really relax at all. If I do it's on my road bike going for a hard cycle, but I also want to be first so it's not relaxing at all, just feels good at the end of the ride.
What is your perfect meal?
Spaghetti bolognaise — in Italy, of course.
What did your school report say?
Hard worker in subjects he enjoys, sporting talents very good, likes to have fun, pleasure to have in the class.
Tell us three things about yourself that would surprise?
• I love baked beans (jazzed up with salami, olives, chilli).
• I don't drink beer, prefer cider.
• I am not a chocolate fan. Why does everyone think I love chocolate?
Extracts: Bread
Spinach, Pumpkin, Cumin & Feta Damper
Makes 3 damper loaves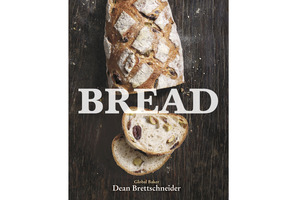 This is an old favourite of mine but with a new twist — toasted cumin seeds — to create a damper packed full of flavour. You can bake damper in a barbecue: just raise the baking tray a few centimetres above the grill so the damper doesn't burn on the bottom.
Ingredients
• 500g strong bread flour
• 5g salt
• 40g baking powder
• 65g unsalted butter, softened
• Good pinch of freshly ground black pepper
• 10g cumin seeds, lightly toasted
• 350ml whole milk, tepid
• 120g feta, roughly cubed
• 100g spinach, washed, dried and roughly chopped
• 100g firm cooked pumpkin, cubed
Method
Sift flour, salt, and baking powder into a large mixing bowl. Add butter and, using your fingertips, rub butter into dry ingredients until mixture resembles breadcrumbs. Toss black pepper and cumin seeds through. Make a large well in the mixture and slowly add the milk into the well. Gently combine ingredients by hand, taking care not to over-mix.
Once dough is almost fully combined, but still has some wet and floury patches throughout, add the feta, spinach and pumpkin. Fold and lift into the dough to give a rough dough mass. Do not over-mix dough at this stage as it would result in a tough damper.
Tip dough out on to work surface and divide into three equal parts. Very lightly mould each piece into a round shape and place smooth side up on a baking tray lined with baking paper. Gently flatten each dough piece to a 15cm-diameter circle, using the palm of your hand. Lightly dust with flour, then leave to rest in a cool place for 15 minutes.
Using a large knife or dough scraper, score each dough piece into quarters, cutting three-quarters of the way through the dough. Bake in a preheated 220°-230°C oven for 18-25 minutes, depending on size. Do not over-bake as this will result in a dry damper. Remove from oven and place on a wire rack to cool.
Cranberry & Orange Twisted Loaf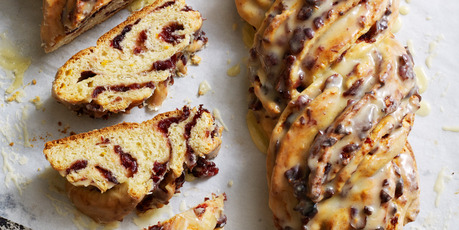 Makes 2 small twists
Cranberry and orange combined with vanilla white icing — you won't be able to stop at one piece! The secret ingredient in the scone dough is the vanilla extract.
Ingredients
Filling
• 200g dried cranberries, roughly chopped
• Juice of 3 oranges (150ml) (or good-quality store-bought orange juice) — zest 2 oranges first and reserve zest for dough
• 1 & 1/2 tsp cornflour, mixed to a slurry with 1 tbsp water
Dough
• 400g plain flour
• 20g caster sugar
• Good pinch of salt
• 25g baking powder
• Zest of 2 oranges
• 70g butter, softened
• 1 egg
• 1 tsp vanilla extract
• 200ml milk
• 1 egg whisked with 1 tbsp water, for egg wash
• Additional flour for dusting
• Vanilla White Icing (see below)
Method
Prepare filling a day in advance. Place cranberries and juice in a saucepan and bring to the boil. Reduce heat to low, add the cornflour slurry and cook for 3-4 minutes, stirring occasionally, until thick. The cranberries should soften and swell during cooking. Allow mixture to cool. Tip mixture out onto a chopping board and chop with a large chef's knife to give a thick, spreadable paste. Set aside.
The next day, sift flour, sugar, salt and baking powder into a large mixing bowl. Stir in orange zest. Add softened butter and rub in using your fingertips and thumbs until mixture resembles breadcrumbs. Whisk egg, vanilla and milk together in a bowl and pour into dry ingredients. Using a wooden spoon, mix together to form a soft dough.
Tip dough on to a floured work surface and knead for 10-20 seconds. Take care not to over-knead or the dough will become too elastic. Cut dough into two equal pieces and shape into squares. Using a rolling pin on a floured work surface, roll out each dough piece to a 25cm square.
Divide filling in half. Using a palette knife, spread filling evenly on each dough sheet, leaving about 1cm free along one edge. Brush egg wash along that edge. Working towards the edge painted with egg wash, firmly and tightly roll up each dough sheet to achieve a Swiss roll or log shape. Using a large chef's knife or dough scraper, make a single cut lengthways right through the middle of each log. For each log, take one strand in each hand, with the cut side of each strand facing upwards.
Beginning at one end, twist strands around each other down the length of the strands. Press the ends firmly together so they do not unwind during baking.
Place twists on a baking tray lined with baking paper, keeping them well apart so they don't join together during baking. Brush with egg wash and leave to rest for 10 minutes.
Bake twists in a preheated 210°C oven for 25-30 minutes. Turn tray halfway through baking time to ensure an even colour. While loaves are baking, make icing. Cover and set aside.
Remove twists from oven and leave to cool slightly.
While they are still warm, gently heat icing in a microwave and use a pastry brush to brush it over the twists. Leave to cool completely before eating.
Vanilla White Icing
• 25g butter
• 45g cream
• 1 tsp vanilla extract with seeds
• 150g icing sugar
Place all ingredients in a saucepan and gently melt together over a low heat, stirring with a wooden spoon or spatula. Use while warm.

• Reproduced with permission from Bread by Dean Brettschneider. Published by Penguin Group (NZ). RRP $45. Copyright Dean Brettschneider, 2014. Available nationwide.