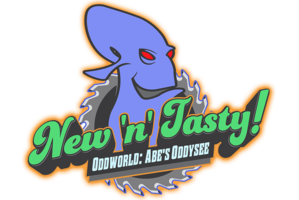 One of my favourite PS One games of all time is Oddworld: Abe's Odyssee. Apart from its sequel, Abe's Exoddus, there has never really been a game quite like it.
From the truly imaginative setting and character design of the likes we'd never seen before, to the childish humour and downright evil puzzle elements, it will stay in the minds of gamers for decades.
When an older game has such near-perfect gameplay, remaking it for the current generation of hardware is an absolute sure thing. Give the graphics an HD makeover, smooth out any jerky animations and camera movements and it's good to go. I make that sound like a weekend project, but don't be fooled by my oversimplification. This kind of "spit and polish" remake takes a tremendous amount of work.
Seventeen years ago we were wowed by the pre-rendered cut scenes in Abe's Odyssee, cut scenes that now look even better in New 'N' Tasty and are rendered flawlessly in real time. That graphical eye-candy flows over into the gameplay with glorious background artwork and fluid character movements.
It's a shame developers felt the need to "dumb down" the difficulty of New 'N' Tasty from the often infuriating difficulty of the original. Difficulty spikes have been smoothed over, there are frequent checkpoints and quick saves to hold your hand along the way. I thought it was unnecessary to lower the standard for a small percentage of casual gamers rather than encourage them to rise to the occasion and meet the challenge.
Oddworld: New 'N' Tasty
From:
Just Add Water
For:
PS4
Courtesy of Fatso Games Club