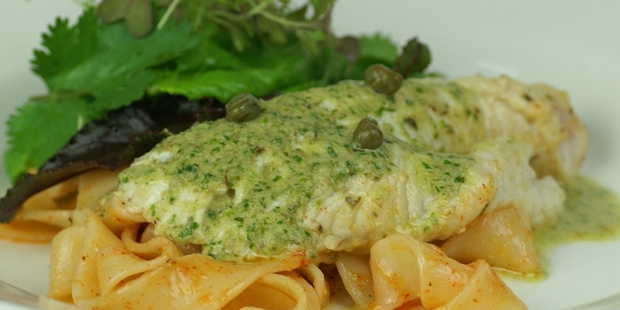 Other skinned and boned white fish could also be used, eg, tarakihi, monk fish, hapuku. Based on a Dona White recipe.
Ingredients:
Marinade: 3 cloves garlic
1 green chilli, seeded and chopped
1 tsp thyme leaves
1/3 cup lime juice
Salt and pepper to taste
Fish: 4 fillets skinned and boned, about 600g
Caper sauce: 2 tbsp water
3 tbsp each: lime juice, olive oil
2 tsp each: red wine vinegar, diced seeded green chilli
1/2 cup fresh coriander leaves
1 shallot, peeled
1 tbsp capers, rinsed and drained
1 garlic clove, peeled and halved
1/4 tsp pepper
Method:
Combine the marinade ingredients in a small food processor. Whizz until well blended. Pour into a large re-sealable plastic bag.
Pat the fillets dry. Place in the plastic bag, seal and turn fillets to coat. Marinate in the refrigerator for 45 minutes.
To prepare the caper sauce, place the ingredients in a small food processor and blend, until smooth. Place aside.
Drain and discard marinade. Grill the marinated fish on the barbecue or under a preheated grill for 3-5 minutes each side or until the fish flakes easily when pulled with a fork.
Serve the sauce with the fish. - Serves 4.