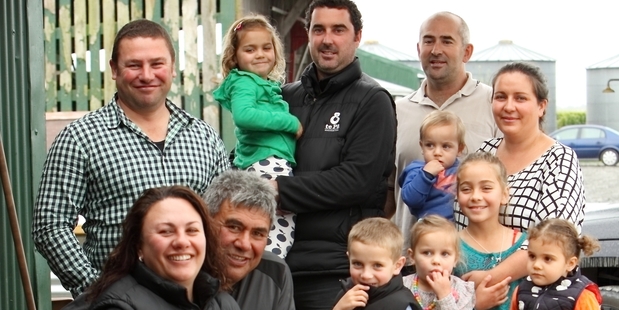 Te Pa winemakers can trace their family occupation of Blenheim's Wairau Bar back to the arrival of first Maori canoes in the 1300s.
I'm not coming home to pull tits" was Haysley MacDonald's reaction to the notion of ending his American OE driving trucks, to return to work in the family dairying operation. He'd seen Blenheim's future and cows just weren't going to cut it.
The MacDonald family live at Blenheim's Wairau Bar, a land mass between the Wairau River and the sea, sort of like an island cut from the mainland by the river and the flood canal. The MacDonalds affiliate with Rangitane, Ngati Rarua and Ngai Tahu; and can trace their family occupation here since the first Maori canoes landed in what's believed to be New Zealand's earliest-known settlement in the 1300s.
This unique piece of land has always been cultivated, since the earliest Maori crops to later years; where in addition to traditional sheep and beef farming, the MacDonalds ran a large potato-growing and processing business.
A substantial dairying operation followed and then in 2004 they decided to diversify into growing grapes and making wine - and that's why I went to visit. I wanted to film their story.
Haysley introduces our crew to his parents Philip and Chrissy and his wife Julie at their family marae, an old schoolhouse complex adjacent to the stopbanks of the river. It seemed like a good place to meet the family before our day of filming. Each day Philip and Chrissy cater a cooked breakfast and dinner for their shift workers in the commercial kitchen inside the smoko shed. They're buzzing. Daughter Monique has recently returned from South America and she's due to have their 15th grandchild any day - her husband is on his first day on the job in the family company. Julie arrives breathless but chatty, complete with youngest son, Tamati, on her hip. She wipes Tamati's nose and tells me she's too nervous to be on camera. I tell her not to worry.
Te Pa Wines is Haysley's brainchild. It means "our place, our home" in Maori and he's lived here all his life. When he's not needed at work, you'll find him hunting and gathering kaimoana of all kinds from the surrounding coastal waters. "Yep, I love my seafood - I especially love it raw," he says as he expertly whips his Japanese-crafted knives across crayfish tails for sashimi then stirs up a mean ponzu dipping sauce for lunch.
"But it's a seriously busy time right now. I don't get to get out on the boat much over harvest. Usually I'm working all hours, but I've got five kids, so it's good to be able to bring home a bit more than bacon to the whanau when I can."
Years ago, before he'd left New Zealand to go and drive big rigs overseas, Haysley witnessed the rapid growth in Marlborough's wine industry. He had a feeling that their land could be pretty decent for grapes. The previously swampy fields had been drained via hand-dug ditches by Haysley's grandfather years ago, leaving behind land boasting a mixture of soil types ideal for growing good sauvignon blanc. So good in fact, that their debut 2011 vintage was given five stars and named New Zealand's Top Sauvignon Blanc by Cuisine magazine - and it was named in the Top 100 at the Sydney International Wine Competition. The 2013 scooped gold medals at the latest Air New Zealand and the Easter Wine Shows.
"Our sauvignon blanc uses grapes from a single vineyard rather than multiple sites, which we think offers a richer, fuller and more honest taste," says Haysley. Crafted by talented winemaker Liam McElhinney since Te Pa's inception, the wines include a smooth, earthy pinot noir, a barrel-fermented sauvignon blanc and purpose-built pinot rose. Since 2008 Garath Exton, a vineyard developer by trade and old mate of Haysley's since years ago, has looked after the vines.
The day we arrive to film, both Garath and Liam have been awake for more than 40 hours. Rain is on the way and that's the last thing anyone needs during harvest.
Everyone who works here has to get their hands dirty, and for Haysley, there doesn't seem to be a knock-off time either. "Jump out mate, I'll do it!" he shouts at a driver who can't seem to get his gondola close enough to the truck to unload. In seconds, the boss of the company has expertly reversed the tractor and climbed onto the truck's trailer to monitor the fruit tipping in.
He's has been driving tractors, trucks, excavators, in fact anything with a gear stick, since the fearless age of 5.
His family's fascination for large machinery also formed the catalyst for kickstarting Montford Corporation, one of the largest and most respected harvest contracting businesses in Blenheim. Haysley heads the operation and the month of April means "action stations". With two shift changeovers, one at 6am, the other at 6pm, his eight tractors and gondolas and seven harvesters are booked solid. "I'm gonna buy that one too," he says as another enormous new $500k machine rumbles down the road after a test run.
And so the spirit of enterprise continues. According to the Te Pa website, the MacDonalds' connection with the Marlborough region began with the Maori migration around 1350 AD, with landings at the Wairau Bar. It's said that all the tribes of New Zealand have links back to these first arrivals.
"In the early 1800s, our mother's people came to this area from Kapiti in the lower North Island and began living on the land we call home today. On our father's side, Francis MacDonald arrived here from Scotland in the mid-1800s. Two generations later, in the early 1930s, Sciascia was the family matriarch, an Italian with a big heart, a big family, and a big vision. By this time the MacDonald family owned the railway line that ran up the South Island, and two shops in Kaikoura."
New Zealand is one of the world's youngest wine regions, with commercial grape growing really only beginning in the late 1970s. Even European settlement didn't occur until the early 1800s - so it's a very rare thing for any Kiwi wine-connected family to be able to trace their connection to a single piece of land as far back as 800 years. But the MacDonald's aren't just any family.
"All we are doing with the vineyard is continuing that guardianship of the land," says Haysley, "kaitiakitanga, for our kids and their kids."