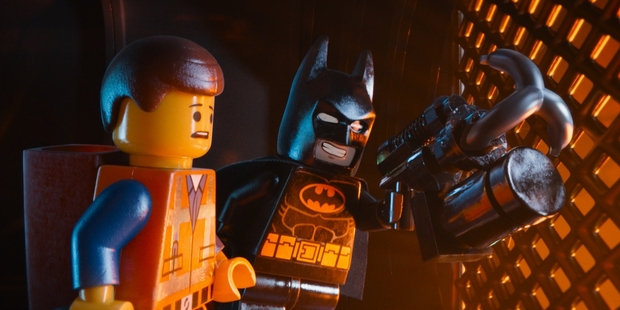 This is the movie the kids have been waiting for and parents, who grew up playing with the brightly coloured blocks will appreciate it, too.
We find out that the Lego universe consists of several unique layers, one of those is called Middle Zealand, and that everything is awesome.
At the start of the movie we meet our unpretentious hero, a construction worker figure named Emmet (voiced by Chris Pratt).
He is a likeable guy, a bit of a goofball and - like many other Lego figures - it's important to Emmet to follow instructions and be part of a team.
Then one day, he spots an unauthorised figure on the building site - a pretty girl who calls herself Wyldstyle (Elizabeth Banks).
She is looking for something but by accident it's Emmet who discovers the missing "piece of resistance".
Because of "the prophecy" he becomes "the special".
With the missing piece stuck to his back, Emmet is the only yellow-faced Lego piece who can save the universe from President Business (Will Ferrell) and his evil plans.
While on the run from Bad Cop, Emmet doesn't think he is special at all - especially when he gets introduced to a bunch of other characters who seem to be much better equipped to save the world.
He teams up with master builders like Wyldstyle's boyfriend Batman, Superman, the Green Lantern, Wonder Woman, Gandalf and a weird and wonderful little creature named Unikitty.
In between fabulous animations and unique colourful worlds, the movie shows that just like in real life, there are two types of Lego builders.
Some follow the instructions, and others make things up as they go along.
The point is that whichever way you build with the blocks, it's all awesome.
With the voices of Will Ferrell, Liam Neeson, Morgan Freeman, Elizabeth Banks, Chris Pratt, Channing Tatum, Jonah Hill, Shaquille O'Neal, and many other great actors, the Lego movie offers great entertainment for all ages.
It's creative and funny, and even a little emotional at times.
Watch the trailer here: