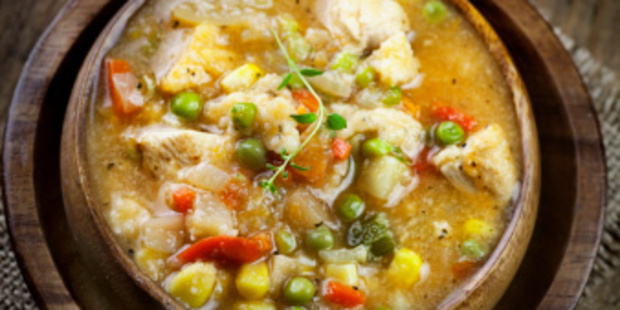 The soup/stew known as goulash, or gulyas, is a pillar of Hungarian cooking. A bowlful of my grandmother's recipe of simple goodness ignited a passion for spice that has never waned.
She peppered chicken or beef with the freshest Hungarian paprika possible. The rusty red powder smelled sweet and tasted lush, nearly intense.
My grandparents favoured intensely red, sweet paprika imported from Hungary and sold in bulk at their local meat markets. Fresh paprika has a full, rich, red pepper flavour with almost no heat.
They'd occasionally use Hungarian half-sharp paprika, which is spicier than the sweet version and adds a nice kick to the pot.
Some recipes call for wine or beer, but you can also use water or a light home-made chicken stock - made from simmering the neck, giblets and wing tips in water - to add a little more body and flavour.
CHICKEN GOULASH
Prep: 25 minutes Chill: 1 hour
Cook: 1 hour
INGREDIENTS
2kg bone-in, skin-on chicken (thighs, drumsticks or breasts)
1 tsp salt
2-4 tbsp lard, bacon drippings or canola oil
2 medium brown onions (halved, sliced)
2-3 cloves garlic (minced)
3-4 tbsp sweet Hungarian paprika
2 cups chicken stock
6 medium yellow potatoes (peeled, cut into eighths)
Chopped fresh parsley
Cooked egg noodles or spaetzle
METHOD
Rinse chicken; pat dry. (Do not remove skin; it adds flavour.) Cut breasts crosswise, through the bone if large. Sprinkle chicken pieces with salt. Place in a covered baking dish or bowl. Refrigerate for 1 hour or up to a day.
Heat 2 tablespoons lard in bottom of a heavy saucepan or Dutch oven over medium-low heat until hot.
Add onions; cook until soft and golden, about 10 minutes. Add garlic; cook 1 minute. Transfer to a bowl with a slotted spoon.
Add more lard to pan if needed. Pat chicken dry; add to pan in a single, uncrowded layer. (Do this in batches if necessary.)
Cook until chicken is nicely browned on all sides, about 10 minutes.
Return all chicken to the pan; sprinkle the paprika over all. Add onions and broth. Stir well. Cover pan tightly; simmer over very low heat, 30 minutes.
Add potatoes; cook until chicken juices run clear and potatoes are tender, 15 to 30 minutes. (If pan juices are too thin, transfer chicken and potatoes to a warm serving bowl and boil pan juices to reduce them slightly.) Taste and adjust seasoning with salt. Sprinkle with parsley. Serve with noodles. -Serves 6.