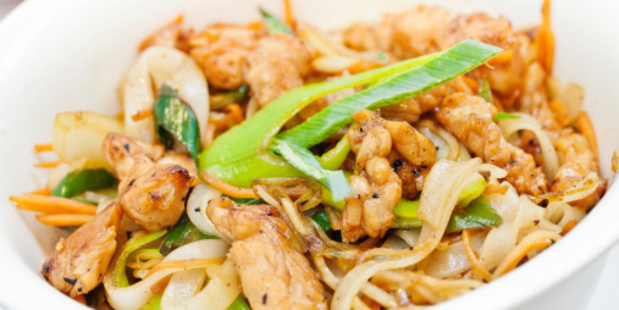 After visiting SimpliFood in Ashburton recently I am delighted at Mike O'Hare's and Laurie Seeley's introduction of The Hub.
This is a cosy corner of the shop where you can sit and peruse recipes made available so your creativity can flow.
Right beside the gluten-free section, it is a great place to start planning your menu, with new ideas for the rapidly growing number of people who are gluten-intolerant or have chosen to go gluten-free for health reasons.
Here is a eally simple and tasty pasta dish made with either regular or gluten-
free pasta.
Ingredients:
Chicken breasts, skin on
Poaching liquid:
1 cup chicken stock
1/2 cup coconut cream
1 lemon grass stalk (white part only, bruised)
1 tsp brown sugar
1 tsp fish sauce
Juice and rind of 1 lime
Fettucine
Method:
Bring the poaching ingredients to almost boiling point and gently slide the chicken breasts into the liquid.
Turn off the heat and leave the chicken sitting in the liquid, covered, for 30 mins or until cooked all the way through.
Remove and set aside the chicken and also set aside the poaching liquid.
Cook fettucine according to packet instructions and drain.
Put back into pot with a teaspoon of Thai green curry paste and toss through the chopped up chicken, and a handful of blanched green beans.
Add some of the poaching liquid to acquire whatever consistency you like to eat your pasta.