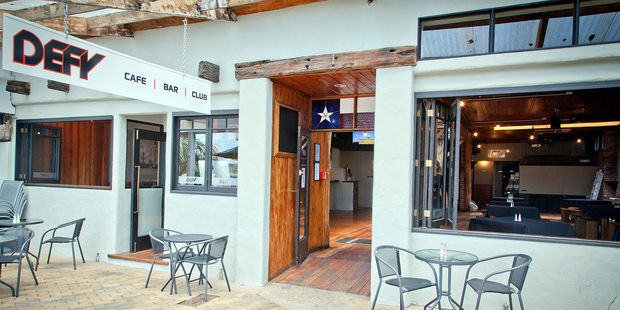 Defy Cafe and Bar 51 The Strand, Tauranga
Open from Tuesday to Sunday for brunch, lunch and dinner
Phone: 579 4254 or 021 324 313
www.defybar.co.nz
There's a new nightclub on The Strand that, besides offering a place to party all night, also opens for brunch, lunch and dinner during the day. It's called Defy and, with owner/operators Kris Nielson and Martin Roberts having been in hospitality for more than 20 years, they know their stuff.
The food choices are fairly basic, but there's something to everyone's liking on the menu, with pasta, salmon, steak, salad and gluten-free and vegetarian dishes available.
We walked in on a Tuesday night, were greeted by the lovely Dani, and sat in a little booth ready to enjoy a drink and a bite to eat.
We started off with a Wild Side cider each and a shrimp cocktail ($15) to share, served the traditional way in a tall glass with lettuce on the bottom and shrimps and seafood sauce on top.
It hit the spot.
My partner made an unusual choice and ordered ravioli ($24) instead of a hunk of meat.
I went for the grilled Scotch beef fillet with a side of salad and chips, and topped with mushroom sauce ($28). If you're not a fan of mushrooms, choose garlic butter instead.
As soon as the meals arrived, my partner was eyeing my steak and chips and asking if I would be keen to swap.
Short answer: no!
It was a big portion so I decided to be nice and gave him a bite or two of steak and a few chips ... in exchange for some of his pasta, of course.
The ravioli had feta, pumpkin, tomatoes, mushrooms and a creamy spinach sauce.
The meals didn't have much seasoning so, if you love an abundance of herbs and spices on your food, you'll need to add pepper and salt.
The food was cooked well, and that's what matters.
When eating out, I always order my steak medium rare, but it's hardly ever cooked to perfection.
Usually, I get it served rare, or medium, or even well done at times. The chef at Defy deserves kudos for getting it exactly right. The desserts were great as well, with the key lime pie ($13) the public's favourite. Children eat free at Defy, and that is not restricted to certain hours.
It was good to see that the menu for children had healthy choices as well as favourites such as chicken tenders and fish and chips.
Another point of difference is that the kitchen is open as long as Defy is open.
Partygoers who find themselves hungry can order from the bar and platter menu at any time of the night. As Defy is really a dance club, you won't find an intimate restaurant atmosphere, but the main thing is that the food is good and the staff are great.
We'll be back.
Reviewed by Martine Rolls