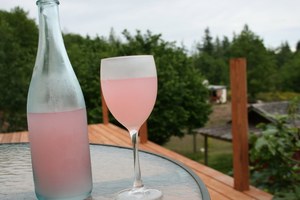 The quality of the food we eat is our best health insurance, says food writer and author
Rowan Bishop. Colleen Thorpe talks to Rowan about her latest book, called Rowan with Relish. Rowan has developed over 50 preserves recipes designed to reduce sugar content and let the natural qualities of ingredients shine.
Tell us three key points of successful preserves
Use produce that is unblemished and good quality.
Don't use produce that is over-or under-ripe.
Ensure jars, bottles and lids are clean and sterilised.
What is your cooking philosophy?
Food should never be predictable, bland or boring. Explore cuisines to create new flavours and textures with different spices, herbs, methods and products; up the fresh herb content in just about everything; cut back sugar as much as possible.
Who cooks at home?
Mostly me, but my daughter and I love to cook together when she's home. Occasionally, my husband cooks by taking all the leftovers from the fridge and making something, usually Asian style and pretty wonderful.
Do you take a list to the supermarket ... or are you a random shopper?
Both.
How did you go about deciding what recipes to include in this book?
I took a lot of our family and column favourites, plus I had a lot of fun inventing new ones, [and] playing around with flavour combinations.
Which recipe is your favourite in this book?
I truly don't have a favourite, but I'd miss not having brinjal, smoke & lime feijoa chutney, preserved lemons, the eggplant kasundi pickle, life's too short marmalade, raspberry vinegar and hot top shelf tomato chutney/sauce in my cupboards most of all.
What is your all-time favourite recipe?
That's an impossible question. My husband says the worst thing about living with me is that I make a dish he really enjoys, then he may not get it again because I've moved on to the next thing.
Do you have a guilty pleasure?
I love almost any cheese and probably eat too much of it; and I do enjoy hot, crisp chips.
And what was the very first thing you cooked?
The first thing I can remember is an omelette.
Who inspired your love of cooking?
More what than who - travel was a big impetus, tasting dishes from other cuisines and being excited by that.
What did your school report say?
Could be more confident, but I always got good marks in everything except maths.
Where did you train to be a chef?
I'm not a trained chef. I have an honours degree in history and English.
Apart from writing cookbooks tell us what else takes up your time.
Four adult children, two grandchildren, my garden, books, friends, walking our dog and teaching (relief) at Hillcrest High School in Hamilton.
If you were on Mastermind what would be your specialist topic?Literature.
Tell us three things about yourself that would surprise us.
I just can't think of anything here - I'm a very ordinary person. Maybe that I've always wanted to have a horse again, see more of New Zealand as I've travelled a lot, spend more time tramping.
Recipes:
A vigorous clump or two of rhubarb is always an asset in a garden, and not least of all for making this delicious pink "champagne". Refreshing but not sweet, it has such a lovely colour that it epitomises fun, fizz and summer.
INGREDIENTS
1kg red rhubarb stalks
3 thin-skinned lemons
700g sugar
4 litres water
METHOD
Slice the rhubarb into 2cm lengths. Chop the whole lemons roughly.
Dissolve the sugar in hot tap water. Place the prepared rhubarb and the chopped lemons in a non-metallic bowl or bucket, pour the dissolved sugar mixture over, cover with a clean cloth and set aside for 2-3 days, depending on how warm the outdoor temperature is. The mixture should have a light fizz when ready to bottle.
Strain very thoroughly through muslin and transfer to extra-clean 1.25-litre plastic bottles with screw-on tops. Fizzy-drink bottles are ideal. Don't fill right to the top; leave a gap of 5-8cm, to allow the natural gases to rise.
Keep the bottles in a cool, dark place if possible for 2-3 days, or until the neck of the bottle swells and becomes quite hard, indicating the bottles should then be refrigerated. This could take up to 2 weeks, depending on temperatures. Serve chilled.
Plastic bottles work well for this method, as they are flexible enough to cope with natural gas expansion. Simply unscrew the tops to release excess gas if necessary, then tighten again.
Use thin-skinned lemons as thick-skinned have more pith which may add a bitter note to the "champagne".
Makes 3 x 1.25 litre bottles
Rowan Bishop with Relish,
by Rowan Bishop,
Bateman publishers, $24.99