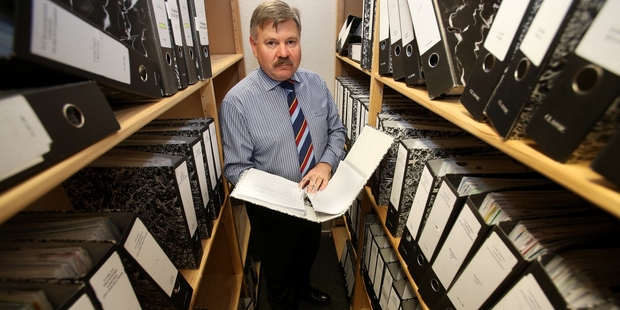 Receivers and liquidators have been appointed to deal with the insolvency problems of nearly 270 Western Bay companies over the past three years, information obtained by the Bay of Plenty Times shows.
Since July 2010, 143 Western Bay companies have been struck off the Companies Office register as a result of insolvency. One-hundred-and-three companies were still in the process of liquidation, 19 were in receivership and a handful had become solvent again.
The information - the result of an Official Information Act request to the Ministry of Business, Innovation and Enterprise - shows 109 liquidator/receiver appointments (40 per cent of the total) were made between July 2010 and June 2011. The number of appointments dropped in the 2011/12 year to 78 but rose slightly to 82 in 2012/13.
Tauranga insolvency expert Kenneth Brown said the numbers did not surprise him and were consistent with the records kept by his practice.
RHB Chartered Accountants, of which Mr Brown is a director, dealt with the majority of the insolvencies in the Western Bay and had noticed a spike in appointments during the 2008 to 2011 period.
However, the number of appointments had declined over the past 18 months.
Mr Brown said he had not noticed high levels of insolvency in any one sector.
"Our appointments have been across the board, that is one of the interesting factors this time round. Retail has been, and is still, struggling but many of them just self-liquidate - close down, pay out what they can and move on without a formal liquidation procedure - or they weren't companies in the first place."
This week, RHB merged with the Tauranga branch of accountancy firm BDO. The move was the fourth merger among local accounting firms since January.
KPMG partner Tracy Preston-Lett said difficult trading conditions over the past five years had forced many businesses to either adapt and consolidate or call it quits.
"I think the reality is that people have adapted to the new norms of doing business and are being much more strategic in how they think about growth.
"Mergers and acquisitions with competitors and strategic alliances are becoming more commonplace. This can lead to some redundant entities being wound up, and have an impact on the results reported."
Business insolvencies were a sign of the times, but also part and parcel of the lifecycle of business, Ms Preston-Lett said.
"The statistics on business survival reinforce that it really comes down to survival of the fittest."
Tauranga Chamber of Commerce chief executive Max Mason said declining numbers of insolvencies supported other data which showed the local economy was improving.
"There are always going to be births and deaths in our free market economy and, while personally painful for some, it's the best system there is," he said.