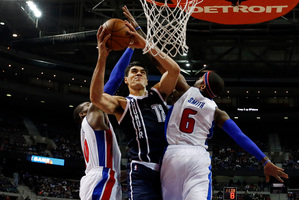 The Steven Adams Show rolled into Detroit today where the Kiwi rookie recorded his first double-double and set career highs in minutes, points and rebounds.
Adams was Oklahoma City's third-highest scorer in the 119-110 win over the Pistons, trailing only All Stars Kevin Durant and Russell Westbrook. He also played more minutes than anyone but Durant and led the Thunder in rebounds.
In addition to his 17 points and 10 boards, Adams chimed in with three assists, three blocks and a steal in 31 minutes. He shot seven-of-10 from the floor and three-of-four from the free throw line in what was easily the best statistical output of his five-game career.
"The only [number] that matters is that we win," Adams told The Oklahoman postgame. "As long as we've got more points than the other team, we're straight."
Adams became the second New Zealand, after Sean Marks, to manage a double-double in the NBA, while he was also the first Thunder rookie to achieve the feat since 2010.
The 20-year-old came off the bench once again and completely outplayed the Thunder's starting centre, with Kendrick Perkins held scoreless across 17 minutes.
While single-game plus-minus totals - measuring individual players' influence on the score during his time on court - must be taken with a grain of salt, Adams finished with plus-20 while Perkins was minus-15.
"I thought Steven had just a terrific game," Thunder coach Scott Brooks told The Oklahoman. "The young man is getting better and better every day because he works hard.
"He has great hands, and he finishes around the basket. Those are the things that we expect him to continue to get better at."
Whether Brooks listens to the Thunder fans on Twitter imploring him to start Adams is almost irrelevant if the Kiwi continues to get the minutes he needs to develop his game.
The centre is now averaging 20 minutes a game as Oklahoma City, among the favourites for the NBA title, have shot out to a 4-1 start to be tied atop the Western Conference.
In addition to calls for Adams' promotion to the starting five, social media was ablaze with fans tipping Adams to be a rookie of the year candidate - which, after five games, is some achievement for a player once thought destined for the development league.
- APNZ