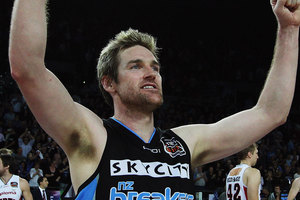 The stunning, spectacular and the sentimental, nzherald.co.nz lists the top ten sporting matches of 2012.
Number 6: Breakers win in double-overtime
April 12, 2012
Many had predicted the 2011/12 grand final series between the Breakers and Perth would be an epic matchup but few could predict just how immense it was.
It is now referred to as one of the best in ANBL history and the tone was set in game one at a sold out Vector Arena (9125 fans) when the Breakers won 104-98 in overtime.
A lot of the pre-match was dominated by debate around Tom Abercrombie's dodgy ankle that had been badly sprained late in the semifinal win over Townsville in a needless and dirty foul by Peter Crawford. Abercrombie was suited and booted for the match but he wasn't right and didn't feature.
It was a game of incredible thrusts and counter-thrusts. Just as one team looked to have taken control, the other replied.
Perth jumped out to an early 11-0 lead as the Breakers looked to be suffering stage fright. The defending champions made errors, missed shots and lost the dribble but they didn't panic and soon scored 22 of the next 26 points, including five three-pointers, to claim a 28-24 first-quarter lead.
Their swagger - Perth coach Rob Beveridge calls it arrogance - returned as the Wildcats lost their range. By halftime, the Breakers led 50-35 and there seemed no path back for Perth.
Yet they found one. The Wildcats rattled off quick points to take an unlikely 53-52 lead inside five minutes and it was one they held for most of the rest of the match.
Perth led by six points with under two-and-a-half minutes remaining but American import Cedric Jackson, who led the Breakers with 25 points, and Vukona landed a couple of crucial buckets which, combined with some terrific defence, saw the Breakers send the game into overtime.
The home side slowly took control in the five minutes of overtime as firstly Vukona and then veteran CJ Bruton stepped up with big plays, much to the delight of the delirious crowd.
As a perfect post-script, Beveridge said the Perth players were upset with the way the Breakers celebrated their victory, especially livewire red-headed America Gary Wilkinson. They wouldn't have enjoyed, then, the Breakers cutting down the net at Vector after winning the third game to claim back-to-back titles.
What they said:
Breakers veteran Dillon Boucher
"It has been touted as one of the best finals that's ever been in the ANBL. As long as people even throw that around, you know it was a good game.
"The first thing I remember was the atmosphere at Vector Arena. Man, it was defeaning. There were times in the game when guys were talking right next to me and I couldn't hear what they were saying. The intensity of the game... every possession was coming down to monster plays every time. It was like that for about 10 minutes. Guys were hitting the floor, bodies were diving on the floor, guys were getting their heads split open. It had everything you expect a final should have.
"Every time you go into a battle like that, it's relief. You are so emotionally drained afterwards because you have been on a high for so long in a game that when it finally finishes you almost plummet off the high. Obviously the jubilation of the win was amazing. For me, I reflected afterwards on all those years when the Breakers struggled. And we were playing in front of 10,000 people. And they had paid to watch us play in a grand final.''
APNZ sports editor Michael Brown
"I have covered a lot of big games in a lot of different sports over the past 15 years but none were as difficult as this - only Winston Reid's last-minute goal for the All Whites against Slovakia at the 2010 World Cup in South Africa came close as it required a complete re-write on deadline.
"My report was due only a minute or two after the final whistle but it was virtually impossible to tell who would win as the game swung wildly on the back of significant momentum swings. It made writing a coherent report very challenging. I had a handful of different strands on the go at one time but, in the end, none felt like they were working so I stopped and decided to back myself to write something in about four minutes after I could tell who was going to win. It allowed me to watch more of the action as it unfolded and capture the drama. And what drama.
"Veterans CJ Bruton, Dillon Boucher and Mika Vukona came up with some big plays and import Cedric Jackson sometimes made the basketball dance. But Perth refused to lay down and have their tummy scratched and you had to admire their tenacity in extremely hostile territory.''
Top matches of 2012
No.7 - Epic Aussie Open final
No. 8 - Blues suffer last minute heartbreak
No.9 - Arsenal make astonishing comeback
No.10 - Black Sticks go down fighting
Over the next week we will count down the best matches of 2012. Which ones stood out? Have your say below.
- APNZ