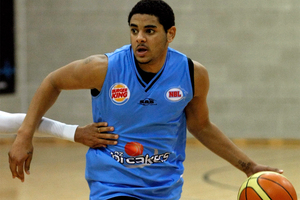 Corey Webster already knew he had made a big mistake and it was brought into focus every time he turned up to pack supermarket shelves during the overnight graveyard shift.
Many who work those unfriendly hours probably want to be somewhere else - anywhere else - and Webster certainly did.
His sights were on returning to the Breakers and today the 23-year-old guard was given another chance. The club didn't need to. After all, he had betrayed their trust for a second drugs offence which resulted in his contract being torn up.
But the Breakers are prepared to forgive, if not necessarily forget, and have included him in their 10-strong fulltime roster as they seek a third straight ANBL title.
Webster will be on a short leash, and can't afford to wander in any way, but has vowed he has turned his life around, that he has changed. He doesn't spend as much time with his old friends so they don't "influence" him and did everything the Breakers asked of him to prove his worthiness even though there wasn't a guaranteed contract at the end of it.
"Having had it taken away from me so quickly was crushing and made me realise how much of a privilege it is [to be a professional sportsman] and you can't take it for granted," Webster said.
"I think the lowest point was when I first heard [the ban] was going to be a year. I was just crushed. For the whole time I was hurt. I wanted to be playing, to be practicing, but I had to deal with it and come back stronger.
"I made changes: the people I was hanging around, things I was doing outside basketball. I think over these last 12 months I have realised what it takes to be a professional and what you need to do on and off the court."
There are few better places to be than the Breakers. They are well organised and have created an environment where people look after each other but they also set high standards and aren't scared of coming down hard on those who transgress.
Last season BJ Anthony was suspended for 10 days after for turning up to training badly hungover - a penalty insisted on by the players - and veteran forward Dillon Boucher said Webster will need to earn their trust again.
"I was hurt a lot by what happened," Boucher said. "I was taking him down a mentoring-type path when it happened. I was personally hurt and I let Corey know that. I'm one of the excited guys to see the transformation he has made.
"He's made his mind up on how he wants to be and he wants to be a professional. Everything he has showed us so far has been great. We are just here to support him. We are family. The Breakers talk a lot about family. Corey has just been away for a year and now he's back in the family and we will support him."
He will need to cope with the words drugs and ban being spoken when his name is mentioned, certainly in the short-term, but needs look no further than former teammate Gary Wilkinson to see how a player can overcome this.
Wilkinson went off the rails when at college in America but made significant changes to ensure he didn't throw away his chances at a successful professional career.
Webster, who originally came through the Breakers development system, wasn't quite as demonstrative as Wilkinson can be at the club's first official training session for the new season today but excited nonetheless.
"It feels great to be back. Putting on the jersey this morning, getting ready for practice was better than the first time I started playing for the Breakers. It feels like a fresh start."
He just needs to ensure it ends better this time.
- APNZ