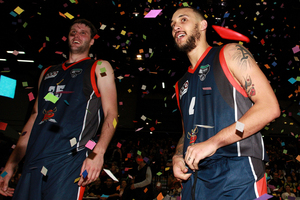 Big-time players make big-time plays in the important games and few athletes come much bigger than Alex Pledger.
The 2.13m Auckland Pirates centre threw down an impressive alley-oop during the final couple of minutes to put an exclamation point on his side's 89-83 New Zealand NBL grand final victory over the Wellington Saints in the capital tonight.
Pledger's slam gave the Pirates a seven-point lead and they closed out the game in gritty style as they defended well and denied the Saints a chance to get back in to the game.
It was another title for Pledger who has claimed back-to-back Australian NBL titles with the New Zealand Breakers and he was also named the Final Four's most valuable player from this weekend's action.
"It's kind of hard to put a championship on a pedestal and rank them,'' Pledger said.
"They're all pretty special in a way and this team coming from second to last last year to wining it all this year, I feel very privileged to be part of it.''
Pledger was in his first year with the Pirates after his previous club, the Waikato Pistons, pulled out of the NBL before this season began.
He racked up 20 points and nine rebounds tonight and also scored 25 points and pulled down 13 rebounds as they beat the Manawatu Jets 104-88 in Saturday's semifinal.
"I struggled in the first half a little bit, but I think overall I was obviously pretty happy with the way things went. I had one of my better games yesterday (sat) and had a pretty good second half today and like I said when I got those awards, without all these guys that are out there I wouldn't have the opportunity to do things like that.''
The championship was also veteran hoopster Dillon Boucher's ninth NBL crown having collected titles with the now-defunct teams the Auckland Stars and the Waikato Titans.
Pledger had plenty of support as four other Pirates scored in double figures, with import Ron Dorsey looking particularly impressive with 18 points and five rebounds.
Saints import Ernest Scott led the charge for the home side as he dropped 28 points, including six three-pointers, while fellow import Jason Crowe dished out 11 assists and added 10 points.
The Saints held a two-point advantage at half-time but had few answers in the second spell as Pledger took control and the Wellingtonians couldn't stop the Aucklanders' offence.
The Saints, who were shooting for a rare NBL three-peat, had to battle past the Bay Hawks in Saturday's other semifinal.
Having to go in to overtime to topple the Hawks, 94-88, might have sapped a bit much energy from the Saints.
After finishing the regular season at pace to register a nine-win seven-loss record they brought momentum with them in to the finals weekend but it just wasn't enough to overcome a talent-laden Pirates side who had too many weapons.
Auckland Pirates 89 (Alex Pledger 20, Ron Dorsey 18, Ismail Muhammad 16)
Wellington Saints 83 (Ernest Scott 28, Casey Frank 19) 1Q: 28-21 HT: 46-48 3Q: 71-64.
- APNZ