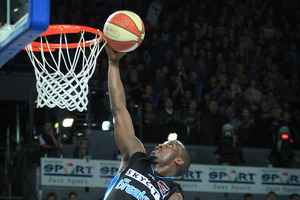 Cedric Jackson has thrown a scare into the Breakers camp on the eve of their finals decider against the Perth Wildcats after leaving training with an ankle injury today.
It is the same ankle that Jackson injured in the play-offs against the Townsville Crocs last month. On that occasion he was taken through Townsville airport on a wheelchair before scoring 14 points in the 27 minutes he was on court.
Breakers coach Andrej Lemanis is hoping for a similar quick recovery for his American defensive linchpin. "I'm sure he'll be fine, I don't know, but I'm sure he'll be fine,'' was Lemanis' optimistic outlook when questioned about Jackson after training.
"There's nothing I can do about it now. He'll go to the physio and what happens, happens.''
The Breakers are uncanny in their ability to pick up injuries during the playoffs.
Last year Mika Vukona nursed a serious knee injury as they won their first NBL championship, and Thomas Abercrombie's ankle has been a major talking point in this series.
Abercrombie made his return in Friday night's one-point loss to the Wildcats and suffered no ill effects, Lemanis said.
The Breakers were angered by some off the ball incidents from the Wildcats in Perth but Lemanis said they had to be sensible tomorrow night at the Vector Arena.
"It's grand final game three, everyone is obviously going to be up for it and emotional but you've obviously got to be smart with it. By the same token, if we're being cheap-shotted we're not just going to accept it either.''
When asked to elaborate, Lemanis said: "Certainly when you go through the tape there were a few off-the-ball incidents that you would suggest weren't in the realms of normal basketball.''
- APNZ