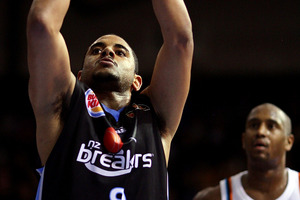 When the NZ Breakers sit down this week to finalise a roster for the next 12 months, one of their toughest calls will be the future of repeat drug offender Corey Webster.
Aside from import spots, there are two contracted positions left for the next Australian NBL season, essentially those held down by Leon Henry and BJ Anthony. That pair face stiff competition from within the extended squad and, outside it, from Webster, who's currently serving his second suspension for use of banned substances. Either way, the decision will likely end in tears.
"It really comes down to what our final player points are," explains Breakers general manager Richard Clarke. "A couple of our guys are challenging their points at the moment and Corey is also determining his."
Each ANBL player is allocated a points value and each team a maximum quota, so the final spots may come down to simple mathematics and who fits under that cap.
Webster was poised to take on a greater role in the current Breakers set-up until he tested positive for use of synthetic cannabis just 12 months after his first offence. He was duly replaced by Aussie veteran Daryl Corletto, who has already been re-signed for another two seasons, and Webster has now been shuffled back in the pecking order.
He hasn't played since October and has had to work largely by himself to stay in shape. Deprived of his basketball income, Webster (23) has been employed stacking shelves at a North Shore supermarket.
"Corey's certainly in the mix for the guard spots, but his points will play a big role," says Clarke. "From what we can see, he's been working hard and he's made some good choices. He's been impacted by the severity of his punishment and having basketball taken away from him. It will come down to where his skill set fits with what we've already got and what he's done to convince all of us - players, coaches and management - that he deserves that spot.
"It's not like he can't play any more. He's pretty hungry and he's certainly talented, so it's more of a values and commitment sort of call."
Meanwhile the Breakers' Kiwi stars may struggle to fulfill their domestic contract obligations as they recover from another long Australian National Basketball League campaign.
Clarke has indicated players face a standard two-week stand-down before they can suit up for the New Zealand competition but some may need a longer break to allow their bodies to mend.
Development players Dion Prewster and Josh Bloxham have already fronted for their Southland Sharks and Nelson Giants teams and sub Leon Henry should join his Otago Nuggets relatively quickly. But if the Breakers hold firm on their intentions, the likes of Mika Vukona, Dillon Boucher and Alex Pledger face an almost impossible race to log the five appearances they need to qualify for next month's local play-offs.
"These guys would play the next day if they were asked to," says Clarke. "But we have to make sure they're getting some rest periods at some time. We've always known it's a problem but we're trying to manage it and work with the players. We're trying to be a bit smarter about it."
Many of the Breakers face year-round commitments to the ANBL, their local clubs and the national team, a schedule that has driven them to near burn-out. Vukona and Tom Abercrombie had to miss much of the Breakers' 2011 pre-season after returning from the Tall Blacks' Olympic qualifying campaign and Abercrombie subsequently ruled out any involvement in the current national league.
Vukona - the human wrecking ball - is a prime candidate for extended R&R and can probably abandon any hope of turning out for Nelson this season. Even if he sat out the bare two weeks, they wouldn't have enough regular season outings left for him to qualify for play-offs. Boucher and Pledger are both contracted to the Auckland Pirates (7-2).
They need to make a May 4/5 road trip to Southland and Otago if they hope to contest the play-offs.