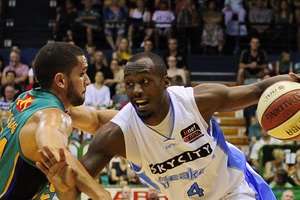 History is repeating itself for the Breakers after an injury scare before tomorrow's must-win playoff in Townsville.
At this point last season, they went into the second match in a three-game semifinal series against the Perth Wildcats on the verge of an inglorious exit after a dismal performance in game one and with key forward Mika Vukona having seemingly no hope of playing.
Fast forward 12 months and the Breakers must beat the Crocodiles in Townsville to send their series to a third game - and they might have to do it without point guard Cedric Jackson.
The American rolled his ankle in training yesterday when driving to the hoop and was clearly distressed as he was helped from the court. He was taken away for scans, which cleared the joint of any significant damage.
Although he will travel with the team there is still a big question mark over his involvement in the game. It doesn't look good but Jackson has battled with an ankle injury all season and not missed a match.
If he is unable to play, it would be a huge blow to the Breakers' chances. Jackson played his worst game of the season against Townsville last week but is a hugely influential presence and many felt he was a strong candidate for the league's MVP award.
The 26-year-old, who was named in the league's first five with teammate Tom Abercrombie, is a strong defender, excellent dribbler and is most effective driving to the basket and setting up shots for his teammates.
Breakers coach Andrej Lemanis attempted to downplay the seriousness of the situation and tried to avoid any reference to last year's travails.
"What happened last year has absolutely nothing to do with this year and what happened yesterday has nothing to do with what will happen tomorrow," he said.
"It's one of those things. You just move forward with the facts you have at the time."
The facts are Jackson averages 12.8 points and 5.8 rebounds per game and leads the league in assists (6.3 per game) and steals (2.4).
He had vowed to be better tomorrow after his off-colour performance in game one against Townsville but CJ Bruton might need to play a bigger role.
The 36-year-old winner of four ANBL titles has been coming off the bench since returning from a knee injury but would be expected to step into a starter's role.
He's not as explosive or quick as Jackson but is a better shooter, and that could be a crucial factor.
"With his experience and his proven record of performing in big situations, there's no better person to step up but him," Lemanis said.
Vukona famously defied medical predictions to play a leading role in the Breakers' do-or-die match against Perth last season, despite knee ligament damage.
He had travelled largely for moral support but gave his side a big boost when he passed a fitness test on the eve of the match and Kirk Penney followed it up with 38 points. Breakers fans would love nothing more than that kind of history repeating itself.
- APNZ