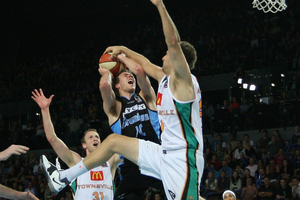 Maybe, just maybe, the Vector Arena experiment has finally come back to bite the NZ Breakers where it hurts most.
It'd be a gross over-simplification to blame the venue for Friday night's stunning 82-99 semifinal-opening loss to the Townsville Crocs. But if the Auckland-based outfit are to defend their Australian National Basketball League crown, they will now have to pull out a special performance on the road at one of the most daunting stadiums in the competition.
And perhaps that's the point - opposition teams just aren't scared enough of Vector.
Having battled all season for home advantage and crafted a 13-1 record on this side of the Tasman, the Breakers rather threw that edge away by moving from their spiritual home of the North Shore Events Centre for playoffs.
"This is a great place to play," insisted Crocs guard Peter Crawford, who led all scorers with 24 points that included 10 in a brutal 30-18 third quarter and two three-pointers that broke the Breakers' spirit down the stretch.
"I like it better than North Shore. It's a big stadium, brand new, a great facility and a huge crowd. It's what you play all season for, to get to the playoffs with a big crowd and a great venue.
"We knew, in a big gym like this, there would be a lot of momentum if they hit a couple of big shots, so controlling that was big for us."
The Breakers were unbeaten over three games at Vector Arena during the regular season, but before departing the building in January, Kings coach Ian Robilliard declared it an honour to play there.
That's the very last thing you want to hear from a visiting team. You want your home court to be a fortress, not a holiday spa.
You want your opponents' bench looking over their shoulders, wondering if they're about to wear a hot dog in the back of the head ... which is what you get with 4000 rapid fans crammed into tiny NSEC.
To be fair, Townsville had the benefit of playing at Vector during the regular season, squandering a 23-point lead to fall 88-74 in November.
"Last time we were here, we played well at the beginning of the game and we like shooting in this gym," admitted coach Paul Woolpert. "I think that confidence carried over to tonight and if these guys feel in the flow, they all have the green light as far as I'm concerned."
His players hit 7/9 from deep after halftime this week and won't feel at all intimidated by their surroundings if they're asked to return for a series-deciding game next Saturday.
The Breakers organisation has done a great job marketing basketball to the Auckland public this season and Thursday's 8146 attendance was a record for the sport in New Zealand, but you can't put that in a trophy cabinet or hang it from the rafters.
If they're to rally, as they did from the same position against Perth Wildcats in last year's semifinals, the champs will have toup their performance from the effort they put forth in Game One.
"We need to play better," offered Breakers coach Andrej Lemanis. "We didn't play to our normal level tonight.
"They shot it well - 57 per cent across the board. Some of that was due to us not having the defensive intensity we needed through periods of the game and some of it was they just made shots, and they're a team that can do that.
"We also got out-rebounded, which is an effort area that we're normally good at."
Forward Tom Abercrombie (20 points, 4/6 3pt) and, to a lesser extent, American Gary Wilkinson (19 points) were the only front-liners anywhere near top form.
The Breakers haven't been as convincing away (8-6) as they were when they had the league's best road record last season, but they've shown their abilities in this situation before.
"Obviously, we're not happy," said Wilkinson. "I don't think we're down on ourselves in terms of what we can accomplish - we're confident we can go to Townsville and get a win."