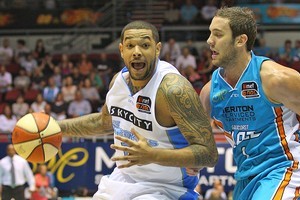 For BJ Anthony, playing basketball is the easy part of being a professional athlete.
It's everything else that goes with it that's difficult, but the 23-year-old Breakers' forward is vowing to learn as quickly as possible to avoid any repeat of the 10-day suspension imposed on him by his teammates for turning up to training hung over.
Anthony returned to training this week - although injury has prevented him from taking an active part - with a new attitude and improved fitness. He is off the drink and lost weight as he tries to regain the trust of his teammates.
It wasn't his first alcohol-related indiscretion - he was caught drink-driving on the night of the All Blacks' World Cup triumph - and teammates had only recently talked to him about his use of alcohol.
"At the start it was pretty hard,'' Anthony said. "I knew I messed up so I just felt like I had to make things right, really. I tried to flip it around and turn it into a positive and try to turn myself into a better athlete, to get a different mindset and realise what it means to be a professional.
Because you can talk about it all you want but it's tough, it was tough for me, to actually realise what being a professional was.
"I feel like basketball is the easy part. It's everything else that comes with being a professional that's the hard part.''
He needed only to look to former teammate Corey Webster if he needed any motivation.
Webster had his Breakers contract torn up last year after testing positive for synthetic cannabis Kronic. It came on the back of a one-year suspension for a failed drugs test for cannabis use while playing in the New Zealand NBL. He's now working the night shift packing supermarket shelves and doing some landscaping.
"I spoke to Corey last week and said, 'bro, I know how you feel, I know that shitty feeling you must have had'. He said, 'you don't know how I felt, I'm not in the team anymore'. I was like, `that's true'. I got a small taste of it. It must feel horrible. There's definitely zero per cent of me that wants to feel that way again.''
The irony is Anthony is facing an enforced absence because of an injury he picked up overdoing things during his suspension. He has a stress reaction and mild high ankle strain which is a precursor to a stress fracture, and will be in a moon boot for at least two weeks.
It means he will miss tomorrow night's home game against the Townsville Crocodiles and could be out for as much as four weeks.
Fellow forward Dillon Boucher (toe) is also under an injury cloud which puts pressure on the Breakers' forward rotation but he should be OK to play against Townsville.
Daryl Corletto will make his 300th ANBL appearance tomorrow night in a game that could be pivotal in the make-up and order of the top four playoffs. Townsville come into the match in great form, having beaten playoff rivals Gold Coast and Cairns back-to-back last weekend.
The 30-year-old was cut from the Melbourne Tigers at the start of the season but found a home at the Breakers and hopes to be at the North Shore-based club for some time.
"I've said to myself if I can play to 34 or 35 I'll be happy,'' he said. "You find guys like myself that aren't the athletic guys get to play a few more games as we don't get the injuries. I have only missed one game and that was because of a stomach ulcer. I haven't had any broken bones or injuries so I've been pretty lucky.''
In many ways, BJ Anthony is feeling the same way.

- APNZ