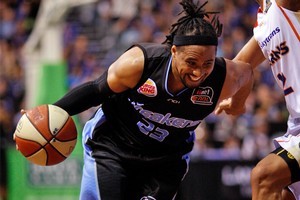 The real CJ Bruton has resurfaced over the past month and it has been enough to convince both player and club to go around for another Breakers season in 2012/13.
The 36-year-old guard was a pale imitation of his former self towards the end of 2011 as form and fitness deserted him. He even went scoreless in three of four games in November, and sent up the sort of numbers that prompted many to suggest his career was coming to an inglorious close.
But he's had more bounce in him than a Cedric Jackson crossover dribble lately and last week against Perth nailed four out of five three-pointers in only 10 minutes of action. He might have collected a much bigger haul had he not got into foul trouble.
Bruton's contribution to the Breakers, however, can't be measured in just numbers.
He's a big presence at the club, and was at the forefront of the players' decision this week to suspend teammate BJ Anthony for 10 days for turning up hungover. That's a major reason why the Breakers want him back again next season to join the likes of Tom Abercrombie, Mika Vukona and Alex Pledger who are all on the verge of signing new three-year deals.
"I hope he comes back next season because he's certainly got his mojo back," coach Andrej Lemanis said. "Both parties want it to happen, so let's see.
"The guy has won four championships and there's no secret to why. Not only is he a good player but he understands how teams work. A testament to that is the fact he has played with at least three league MVPs but has never won an MVP himself. He's happy to get the best out of his teammates and let them take the limelight. That sort of experience and ability to help a team can't be easily replaced so, while he can still walk, I'm still happy to have him as a Breaker."
He will run out against the Hawks in Wollongong on Saturday night, when the Breakers go for their sixth-straight win. They are unbeaten in 2012 after a mini-slump over the Christmas period, and will be heavily favoured to beat a Wollongong side second-last on the table.
If they needed reminding about the dangers of complacency, however, they need look no further than their 81-63 defeat to Wollongong at the North Shore Events Centre in November. It has been their only defeat at home this season and, with only one win between them and Perth at the top of the table, they need to keep winning to make sure the earn home-court advantage for the playoffs.
Bruton hit 10 points in that defeat to the Hawks - it came between his doughnuts - but a lot has changed since then.
"It's coming along," he says of his game. "I have had my moments but I definitely feel a lot better. All the work I am putting in is starting to pay off. It's all about seeing light at the end of the tunnel.
"A while ago I was very frustrated. I wasn't being productive. I knew that. Now I feel like I'm getting in the groove and I want to keep pushing this team forward.
"My whole goal when I came here was to make this team successful and put the Breakers on the map. We've done that but I don't know if I'm ready to leave yet. I know I'm not ready to leave the game yet. My drive is still there, my competitiveness is still there, it's just my body."
A proper off-season would help - he played in Puerto Rico last year - and so would winning another championship.
That's entirely possible with Bruton firing.

- APNZ