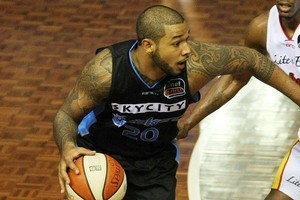 Breakers import Gary Wilkinson says teammate BJ Anthony has some important decisions to make, including his circle of friends, if he wants to be a successful basketball player.
Anthony was suspended on Wednesday for 10 days because he turned up to training last Saturday hung over. It was not his first alcohol-related indiscretion - he was caught drink-driving on the night of the All Blacks' World Cup triumph - and teammates had only recently talked to him about his use of alcohol. The suspension was a punishment imposed by his teammates, who wanted to send a strong message that he needed to clean up his act.
Wilkinson knows better than most what it means to fall off the rails. It might be hard to imagine now when you look at the clean-cut, personable American and devout Mormon but in a past life he was cut from his high school basketball team because of a bad attitude, lived off a diet of drugs, alcohol and partying, dropped out of school and lived a hedonistic existence for about five years.
"You have to change your environment," Wilkinson said. "The people you choose to associate with off the court are those who direct your path. For me in my life, I had to separate myself from my friends. When you're a young kid growing up, your buddies, to get away from those guys is a really difficult thing because they are your crew. But separating yourself from influences that can stop you being successful is the key.
"It's hard but sacrifice is a necessary component of success. Anyone who is successful in life will tell you that. Once you make it [the decision] and separate yourself, you will wonder why you didn't make it earlier.
"I'm really sympathetic to people going through that situation. I made my mistakes and they weren't in front of fans and the media. I didn't have to face the repercussions. I was given chance after chance after chance but it wasn't in front of people who were judging you. I sympathise with that, but it could also act as a catalyst."
The Breakers hope it will. Anthony has become an important ingredient in the side and is averaging three points and 1.5 rebounds from his three to six minutes off the bench.
The senior playing group of CJ Bruton, Mika Vukona and Boucher met coach Andrej Lemanis and recommended Anthony be suspended.
"We see he needs help and as a team we want to rally behind someone," Bruton said.
"But sometimes you need to make a statement.
"It wasn't something we needed at this time. The kid was playing great and doing a lot of good things on and off the floor. But there are a lot of things he needs to clean up and understand where he's at and where this club is at. There's a lot at stake and you can't have anyone slipping up. You're only as good as your weakest link."
Anthony needs to look no further than former teammate Corey Webster to see what can happen.
Webster had his Breakers contract torn up late last year after testing positive for synthetic cannabis product Kronic and it came on the back of a one-year suspension for a failed drugs test for cannabis use while playing in the New Zealand NBL. Webster has ambitions of playing for the Breakers again but needs to prove he has overcome his issues.
In the meantime, he's packing supermarket shelves from 10pm-6am and also doing some landscaping.
- APNZ