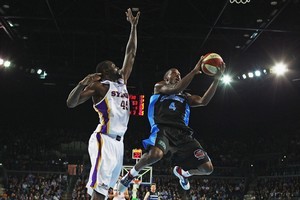 Cedric Jackson is never in one place too long. Possibly the quickest among a plethora of speedy American point guards in this summer's Australian National Basketball League, Jackson has used his velocity to maximum effect, leading the competition in assists (6.4 per game) and steals (2.6).
More significantly, his all-court presence has seen him flirting with that rarest of basketball statistical milestones - the triple double - on at least three occasions this season. You can bet the defending ANBL champions are plotting how to retain the 25-year-old's services for another year but they may have their work cut out. It turns out Jackson is just as hard to pin down off the court.
"People are starting to ask me and I'm definitely keeping that as a priority," he offers. "But I still want to see if there are things I can do in the National Basketball Association [NBA]. I haven't made a decision."
A triple double is when a player records double figures in three different categories during a game.
No Breaker has ever recorded one in the club's eight-year history. No player has achieved one in the ANBL this season. There was just one last summer and you have to go back three more years to find the next most recent. There were 34 triple doubles in 1230 regular-season games in the last NBA season, an average of one every 36 games.
Jackson has had four in his college and pro career, and his most recent near miss - 11 points, 11 assists and nine rebounds - came in a road victory over Melbourne Tigers three weeks ago.
"I'm just worried about winning," he insists. "If I'm getting close, I'm sure the coaches will tell me, but I'm not trying for it. It's a long season and I know I'll get it eventually."
In his early life, he was never in one place long either. Born in Almagordo, New Mexico, near the site of the first nuclear bomb test in 1945, he spent his childhood as a "military brat. My dad was in the air force and moved us around".
He regarded Columbus, New Jersey as home but couldn't stay put, transferring from St John's University in New York to Cleveland State University after just one season.
"I knew if I wanted to chase my dream and have a decent career, St John's probably wasn't the place for me."
In his senior year, he teamed with current Miami Heat rookie Norris Cole to carry the Vikings to the 2009 Horizon League championship and the second round of the national tournament. Jackson hit a full-court buzzer-beater for a historic win over powerhouse Syracuse University, led the nation in steals and was named Horizon League Defensive Player of the Year.
After leaving CSU, Jackson bounced around the NBA fringes, playing in its development league, and logging a handful of games at the Cleveland Cavaliers, San Antonio Spurs and Washington Wizards. Next, he was enticed to Italy, to a Brindisi team that had missed the Serie A play-offs.
"It was very different to what I was used to," he recalls. "At my first home game, the crowd started throwing trash on the court and I'm thinking 'what's this about?' Turns out the fans were just showing how mad they were at the team."
Jackson never wanted to play overseas again and wasn't overly thrilled when Breakers coach Andrej Lemanis invited him to some small island off Australia. Having lost incumbent point guards Paul Henare to retirement and Kevin Braswell to injury, Lemanis was looking for someone who could make his team-mates better.
"We already had people who could put the ball in the basket, so we needed someone who could create for others at the offensive end. Cedric has certainly shown that ability with his assist numbers," says Lemanis. "Everyone we spoke to said he was a great defender and we wouldn't have any problems with him, which is always important to us."
That last point cannot be overstated. Too often, professional teams are torn apart by American imports driven more by personal accolades than victories. Yet, even as he stalks numerical excellence, Jackson has somehow maintained the balance perfectly.
"You're never sure how an import is going to react to being coached," says Lemanis. "But Cedric certainly wants to get better - he listens and takes everything on board. If they're prepared to do their best for the team, what more can you ask?"
Maybe for him to stay put.