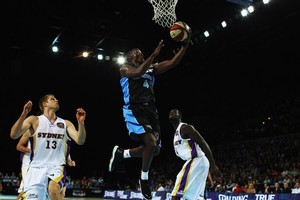 The Breakers are expecting the Perth Wildcats to come out firing in front of their home crowd on Friday night and that will suit them just fine.
Fresh from giving up a 21-point lead to lose to the Gold Coast in the weekend, and with the words of their coach Rob Beveridge still ringing in their ears, second-placed Perth will not be lacking motivation.
They are renowned as a physical and tough team but so are the table-topping Breakers and besides, said coach Andrej Lemanis, you can leave yourself open if you go out too hard.
"They are very aggressive and physical with their defence," Lemanis said. "We've prepared well all week to deal with that but I also think that presents us with opportunities. If you can deal with that physicality you can get some open looks [at the basket] and get your offence going.
"You've got deal with their up-the-floor defence and not turn it over. If you can limit yourself to about 12 turnovers against Perth you're in a good spot to win the game.
"We enjoy it when teams come after us. We've got some guys who can handle the ball and make great decisions so we're pretty confident going in against them."
For Lemanis that is bold talk ahead of a match which is likely to be a tough one for the Breakers. It represents the first of a three-game away series over the holiday period and the New Zealand team will be eager to keep their streak of five wins going.
Lemanis usually doesn't like giving too much away but there is no doubt he is looking to pump up his team ahead of the trek across the Australian continent. And it just makes the actions of Perth coach Beveridge in publicly calling out his team's lack of confidence after their Gold Coast defeat even stranger.
"These boys just don't believe in themselves, you get a bit sick of it as a coach," Beveridge said.
"You're trying to pump them up and tell them how good they are, but they've got to have a little bit more self-belief."
The Breakers aren't taking much notice of Beveridge's comments, but will be aware that a good start against a Perth side battling a bit mentally will be crucial.
Lemanis' side returns from Perth late on Christmas Eve and have a New Year's Eve date against the Cairns Taipans - who they comprehensively beat 85-65 at the North Shore Events Centre on Friday night - before playing the Melbourne Tigers away on January 8.
The Breakers (10-3) are on roll at the moment and the news gets better for Lemanis with shooting guard CJ Bruton, who has been out for three weeks with a torn patella, back on the practice court.
Lemanis said Bruton's knee was holding up well on his return, and a full week of practice could put him in the frame for Melbourne at least.
"We haven't played with a full team yet so it will be great to get all the troops on board," Lemanis said.
- APNZ