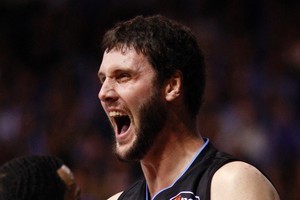 The league-leading Breakers welcome familiar faces tonight as Cairns come calling for the first time since April's historic championship series.
On that occasion, the Breakers tore apart the Taipans in game three of the finals to win their first Australian NBL title in their eighth season, so their visit this time will undoubtedly bring back some happy memories for the New Zealand club.
And it's not just the sight of the Taipans uniform on the floor of the North Shore Events Centre that will have players and fans reminiscing - the Breakers have won four on the trot and their form is starting to resemble last season's championship run.
"We're getting into that groove where we were last year when we went on those big winning streaks," Breakers centre Alex Pledger said. "The ball movement, the defence, the rebounding, the spread of the scoring - we're kind of rounding into that sort of form again."
That form proved too much for Cairns across three games last season but the Taipans (6-5), winners of four of their last five games, are getting into a groove of their own. Adding spice is Cairns' round seven win over the Breakers, one of the few setbacks the Breakers (9-3) have experienced this campaign.
Pledger said his team would manufacture motivation through that defeat, rather than focusing on the finals rematch narrative.
"We've played them once this year already, and they beat us in that game, so I'm thinking more, 'Cairns beat us last time so we want to beat them this time', rather than the whole championship rematch thing."
Since that 80-78 loss in November, the Breakers have run off four consecutive victories, becoming the first team in this year's competition to do so.
The 24-year-old Pledger has played a key part in that successful streak, with a career-high 18 points in last week's win over Gold Coast backed up by 13 points, seven boards and two blocks in just 15 minutes off the bench against Adelaide on Sunday. The seven-footer called his current form "pretty good", choosing to defer praise to his teammates.
"We have a lot of really unselfish players on the team and they're making nice passes and I'm just making some shots," he said. "The coaches have confidence in me at the moment as well. I've just kind of carried things over from that championship season and from the New Zealand NBL to here."
Pledger's combination with American big man Gary Wilkinson is an area in which the Breakers enjoy a significant advantage over their Aussie rivals. Pledger said it was the diversities in the two centres which made for a prosperous partnership.
"I give the team a different look when I'm in there. Gary's a very good shooter and can face up and take big guys off the dribble, whereas I'm a more traditional centre who plays in the paint and is mainly a post player."
Wilkinson said recently his protege could start for any team in the league, a sentiment with which Pledger didn't totally agree but did appreciate.
"I wouldn't say any team in the league, but I like to think I'm a starting-quality player," he said.
The Breakers are still missing long-term absentee CJ Bruton, but point guard Cedric Jackson should shake off an ankle injury to match up with last week's ANBL player of the week, Cairns' own American guard Jamar Wilson.
- APNZ