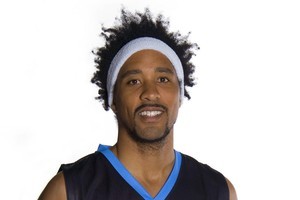 They may be bruised and banged up from Thursday night's torrid encounter with the Gold Coast Blaze but the Breakers will face the 36ers in Adelaide tomorrow in buoyant mood after putting an early season wobble behind them.
Back-to-back defeats to the Taipans and Hawks combined with the loss to injury of key scorer CJ Bruton had begun to raise some awkward questions, however three straight wins over playoff-contending clubs have provided an emphatic answer. Six players posted double-figure points hauls in Thursday night's offensive explosion against the Blaze, while the Breakers crashed the boards to pull down an astounding 20 offensive rebounds.
"That's probably a league record, I have never seen 20 offensive rebounds," said Blaze coach Joey Wright.
In total the Breakers dominated the rebound count 48-22. "I don't know if anybody has been out-rebounded by that much before," lamented Wright. "That's probably a first time for me and the league."
The improved rebounding and defence have been features of the defending champions' game this season, while Thursday's performance confirmed the team remains an offensive powerhouse.
"They have a swagger about them, they have a confidence about them," said Wright.
"I mean, CJ isn't even playing and they are still able to be that explosive with 106 points."
At full strength and having won three of their past four matches, the Blaze travelled to Auckland with high hopes. If they had reckoned on a big night from former Blaze player Mika Vukona, they just couldn't do anything about it, with the Fijian turning in a dominant 21-point 11-rebound display. Those numbers saw Vukona become the first Breaker to pass the 1000-point 1000-rebound mark for the club.
"You just go out there and try to get the ball. Sometimes it just happens, there is really no explanation for it," Vukona said.
Having dined successfully on a steady diet of top four clubs, the Breakers now face perennial strugglers Adelaide. The cellar dwelling South Australians have turned in some curious performances this season, with two of three wins coming on the road against title favourites Perth. At home they have been less convincing, winning just one of five matches, however the trip still represents one of the more arduous assignments for the Breakers.
"It is a short turnaround but we have got the right people behind us to get things in place," Vukona said.
"The guys are confident in each other. It is just whether or not we can execute on the night. We are pretty positive and we go into the next game with plenty of confidence."
The game is scheduled for an afternoon tip-off, but coach Andrej Lemanis was unconcerned about the reduced preparation time.
"It is no big deal, you go and play. No team in the league this year has won more than three in a row. We have got a chance, let's see what happens."
He may have Bruton out and Gary Wilkinson struggling with injury, but Lemanis appears to be a coach who very much likes what he sees right now.
"Over the last month the spirit has grown and the understanding has grown.
"The keys of sharing the basketball and getting it to the open man and everyone believing in everyone has really started to shine."