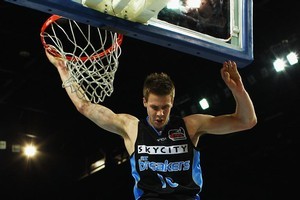 Even before the season started, CJ Bruton said the Breakers weren't his team, they were Tom Abercrombie's.
Bruton's anointing of Abercrombie as the leader of the Breakers doesn't sit comfortably with the 24-year-old but it's reality and last Friday night provided a classic illustration.
Abercrombie hit a career-high 33 points against Melbourne in a dramatic double overtime victory.
Crucially, he made the clutch plays at the end of the match to firstly keep the Breakers in the match and then win it. He won the ANBL Player of the Week award for his deeds - Gary Wilkinson won it in round five - as well as the prospect of even more attention from opposition defenders in the coming weeks and months.
"I don't think that would ever sit comfortably with me,'' Abercrombie said when confronted with the idea the Breakers are his team. "I'm very much a team guy.
"People have talked about that quite a lot but we have said we are a team with a lot of guys who can step up and contribute in a number of different ways.
I don't want to be known as the guy who leads this team. We don't have a captain in this team for a reason and that's because we all want to take on equal leadership roles.''
Coach Andrej Lemanis, however, has seen considerable growth in Abercrombie since his debut season in 2008/09. He remembers a game two seasons ago when Abercrombie had the chance to take an open jump shot against Melbourne as the clock wound down but dished off a pass instead.
"He wants to take those big shots now and has hit them all year,'' Lemanis said. "We know how talented he is. It's about continuing to have influence the entire time he's on the floor - not just picking and choosing when to do it. I thought that [last week's game against Melbourne] was the best performance from Tom in doing that.''
The Breakers will hope Abercrombie has a few more left in him, starting with the visit of Gold Coast to the North Shore Events Centre tomorrow night.
Virtually all of his numbers have increased this season and some markedly so. He's averaging 16.2 points a game, ninth in the league behind the excellent Cameron Tragardh (18.9) and up from a career average of 9.6 points, as well as 5.9 rebounds. He's also shooting at an average of 44.6 per cent from the floor but improved his three-point shooting from 39 per cent to 48.9 per cent.
Part of this has to do with the fact he's getting good looks at the basket in the absence of Kirk Penney.
As much as many see him as taking over from Penney, he's quite a different player. He's a better defender and athlete and has a more complete game but Penney was a bigger scorer (he once scored 49 points in a 103-89 win over Adelaide last year).
The Breakers have had to adjust their game since Penney's departure to play in Spain and they still haven't hit their straps. They let up a huge lead against Adelaide recently, were 23 points down after one quarter against Sydney and even though the double overtime against Melbourne was exciting it was still riddled with plenty of errors. Crucially, however, they won all three of those games.
"We are finding ways to win in tough situations,'' Lemanis said. "We know we want to be great at the end of the season but you need to do enough at this time of the year to make sure you are there.''
- APNZ