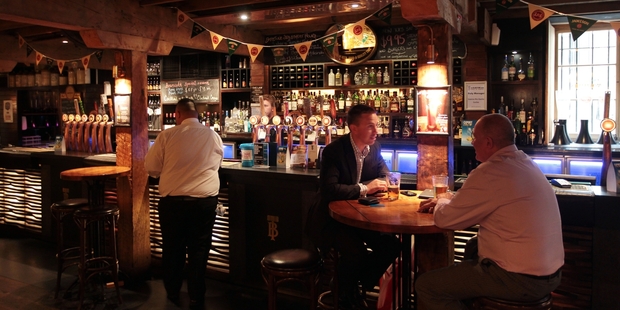 Have you ever had that experience where you get so used to something being there that you mentally gloss over it and never consciously think about it?
I've been a bit like that about the Bluestone Room, one of the most characterful pubs in the city centre, tucked away behind a corner half a block back from Queen St. Finding myself in town one day, I decided it was time to put things right.
I used to go to the Bluestone quite a bit at one stage. It was handy for catching up with people in town and sinking a few cold beers and it was also a genuinely lovely building, one of my favourites in Auckland.
So I popped in for a quiet one to renew my acquaintance and see how much the place had changed. The answer was not much and it does look a little bit tired, if the lights are turned up enough to actually see anything, but it's not too bad at all, in general terms.
The service was pleasant enough, too, without being overly chatty. The guy who served me looked a little flustered, which was fair enough as there was quite a crowd in. Frankly, I'd have thought that would have been a cause for happiness, but maybe not.
The Bluestone is a Monteith's bar, so you know what to expect. An added bonus is the presence of quite a few of the Tuatara range as well as the usual Export, Amstel and Tiger offerings and the spirit selection is solid, if not stellar.
The wine list is great, with some interesting standouts among the usual suspects and they don't rip the guts out price-wise, either. However, if you do fancy pushing the boat out, they offer a cellar selection as well, with some real treasures listed.
The food is ... well, the food can be a little inconsistent. I've had excellent meals there (for a really sharp price) and I've had some supremely mediocre ones. I didn't dine this time, given that I really only fancied a beer, but I'd suggest you give it a try, especially if it isn't too busy.
Overall, then, it's still a good little pub and it's certainly offering a fair bit to its customers. Quiz nights, bingo nights and darts nights are all regular features and it's worth popping your head around the door if you fancy a cold one after work.