The Local
Address: 371 Remuera Rd, Remuera
Phone: (09) 520 2900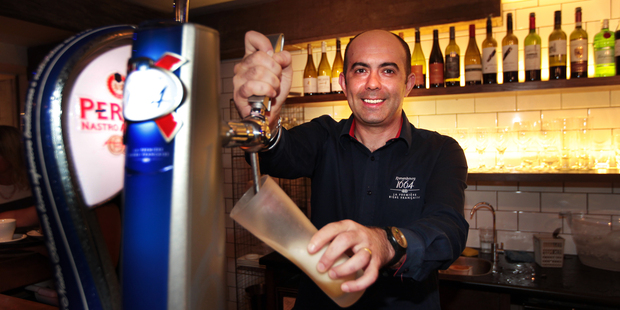 I swore I'd never write about Remuera again, after the pasting I took the last time.
Clearly, being better-off than others makes you a lot more sensitive to even the tiniest bit of leg-pulling, so I made a clear and conscious decision never to mention the blasted suburb again, lest the crews of middle-class mums start driving their needlessly oversized SUVs past my modest, lower-class home in a threatening manner.
I even decided not to bother visiting the place again, in case someone recognised me and had me tarred and feathered for not being rich enough.
So you can imagine the moral dilemma I faced when a very good friend of mine suggested that we leave the safe and pleasant surrounds of our normal Saturday afternoon hangout for the delights of Remmers. Compounding my trepidation was that we were going to a place I had always considered a restaurant rather than a bar but, upon arrival, I discovered that it was as much like a bar as any I have visited.
Long and narrow, it's never going to be the sort of place you go for dancing, but it's a cosy, intimate space, with nice private booths and cool lamps that I recently heard described as steampunk, something that suits perfectly.
The subtle difference that sets the Local apart is the level of service. With a friendly, smiling host - Buki, who sounds like a Melbourne Italian but is actually Albanian - and a well-drilled staff, the level of service was superior to most places I've been recently.
The drinks were good, too, with a cracking wine list and a nice selection of spirits. It's not a craft beer mecca by any means, but on a warm afternoon a cold Peroni or Kronenbourg from the tap was all that was required.
The food here is excellent, as you'd expect from a bistro-style eatery, with some lovely, unusual dishes on the menu and none of them likely to cause financial heart failure, even for non-Remuera residents. It also does a nice line in occasional event nights, having played host to opera singers and Hungarian gypsy violinists in recent months.
This used to be Pyrenees, the great French cafe, but Buki and his team have taken it on and made it their own, with a surprisingly brilliant blend of food, drink and service. If it's not your local already, maybe it's time it was.

Scores
Service: 5
Menu: 4
Drink: 4
Atmosphere: 4
Overall: 4