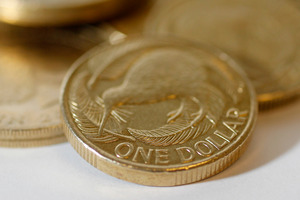 The New Zealand dollar rose to a two-month high against its trans-Tasman counterpart after Reserve Bank of Australia governor Glenn Stevens called his nation's currency overvalued.
The kiwi rose as high as 93.50 Australian cents, trading at 93.43 cents at 5pm from 92.58 cents yesterday. It traded at 87.66 US cents at 5pm from 87.69 cents at 8am and 87.52 cents yesterday.
The RBA's Stevens told an economists' conference in Hobart the Australian dollar was overvalued "and not just by a few cents" and that "investors are under-estimating the likelihood of a significant fall in the Australian dollar at some point."
The comments come after traders were surprised at the soft tone on the currency in the RBA's policy review earlier this week. The Australian cents traded at 93.76 US cents at 5pm in Wellington and has been under pressure after weaker than expected trade and retail data over the past two days.
"The Aussie has just been getting thumped," said Sam Tuck, senior FX strategist at ANZ New Zealand in Auckland. "The tone of New Zealand data is a little better, but it's probably better to sell than to buy on the kiwi/Aussie."
Traders will be looking to US employment figures on Thursday in Washington for a steer on the strength of the world's biggest economy ahead of the Independence Day holiday on Friday. Expectations for an additional 215,000 payrolls may have ticked higher after last night's US ADP private payrolls report for June beat expectations.
The European Central Bank will review policy on Thursday in Brussels, and is expected to keep the status quo. The kiwi rose to 64.21 euro cents at 5pm in Wellington from 64.01 cents yesterday.
The local currency was little changed at 51.08 British pence from 51.04 pence yesterday, and advanced to 89.26 yen from 88.91 yen. The trade-weighted index rose to 81.47 from 81.13 yesterday.