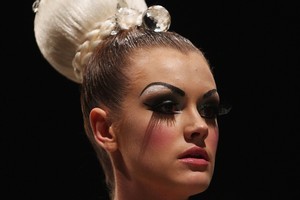 It's the show you look forward to all week. The World guys just get that by the end of Fashion Week everyone is ready for the party, a lot of theatre and a damn good time.
Denise, Francis, Benny and the gang have all worked together for so long that the brief to hair artist Michael Beel from Bouy Salon in Wellington and makeup artist for Shiseido, James Lieu (with Nikki Lovrich and a team from Cut Above) is pretty much "go for it". And when everyone's creative juices are fully pumped, somehow backstage is always calm and under control.
Something to do with the power of good planning, years of practise and months of preparation - and clever people not being reigned in.
Sadly no backstage gossip on the New Zealand's Next Top Models to report. Only Rosanagh getting her nails done: she walked in the second section, World Future, the 1940s up do and cat eyes perfectly suiting her finely boned heart shaped face.
No tears, no tanties, nothing to report there. It says something that even the drag queens blended in with the other models, with their futuristic hair and super modern faces.
Understated? Hardly. Wearable, surprisingly yes, minus the crystals and serious piles of wig. Collectable, definitely.
And Russian Future - simple really, with 25 girls and 25 looks. History in the making.
Michael Beel lost count of the number of wigs his team has been creating - each of the 25 girls had her own look.
Many late nights, seven day weeks and multiple trips to Spotlight for buckets of crystals, if you want to try this at home kids.
The first section, Future World was deeply futuristic, 2001, A Space Oddysey: the piping details turnd out to be tiny LED blue lights on the costumes.
The hairdressing team started work at 10am for the 8pm show. Silver mud pulled back the hair, creating a base for fabulously assymetric silver bob wigs. Seriously, I feel that the 70s Mushroom Bob is due a comeback.
The, second look, World Future keyed into the 1940s with exaggerated finger waves and victory rolls on jet black hair. OK, so gobs of glitter highlighting the curls may not have been from the war-time ration book, but again, the crisp, shiny smoothly sculpted hair would be great for dress-ups.
But it was clearly the final looks of Russian Future - yip, 1940s meets futuristic Russian - that took the cake.
Over-dramatic shapes buns and top-knots, topped again with wonderful woven braided hair pieces and scultpured fascinators - with the finale a couple of Russian-princess crowns of perspex sunrays.
The best bit was the mix of blond and brunette hair pieces, so each girl had a bi-coloured head. It was hard to tell who was originally blonde or brunette.
Oh, and then the whole thing was topped with a giant network of crystals: Michael earned himself a special VIP card from the Spotlight craft department, he bought so many bags of the the things. An assistant patiently worked his way around backstage handing out bags of crystals wired to bobby pins for last minute embellishments.
Shieseido's creative team looks forward to the looks James creates every year - a change from anything any other client is likely to ask for.
Faces were drag-queen dramatic, but still feminine on tiny model bones. Luminising was the word of the day - eyes in every colour variation of the Dick Page-designed Luminizing Satin Eye Colour trio (the silverest light colours on the brow bone, deeper shades into the eye socket). You can stop there, but naturally James and co. didn't, adding glitter topping and eyelashes that I swear were an inch long.
All the artists were brandishing their favourite tool - the Shiseido Automatic Fine Eyeliner in black - to create the cat-eye flick, new high eyebrows (not to be overshadowed by the hair, after all).
Sweet sweeps of pink blush and super-shiny enamel lips - that is, unless the lips were covered with teeny magenta crystals, each applied by hand.
Nails in Orly scarlet or a bi-coloured silver completed the detail.
Take Home Tip: Yes, really, you can use these looks for serious partying. A pale, luminous face with dolly pink blush and dolly lacquer lips is perfect for summer's pastel and blush clothes. Smooth, smooth sculptured buns on the top of the head - with or without a completely contrasting colour in hair pieces and swatches. And beetle down to Spotlight for bags of crystals to weave into this summer's best dressed hair pins.