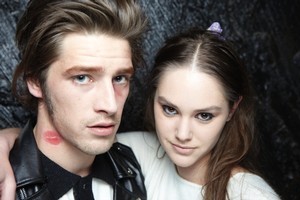 Well the party starts backstage at Stolen (call it brand synchronicity or just folks who are so in tune with their people that work and play are all the same).
The theme of the show at Auckland's grand old Mercury Theatre is ostensibly Last Night's Party, but really we might as well get going now.
Boys and girls had to look beautiful even though it was the day after the hardest party - but beautiful in the way you look after a night sleeping on the couch. Or not sleeping, if you're lucky.
Creative director for hair, Greg Murrell from Ryder for KMS California, has lost track of the shows, look books and shoots he's done for Stolen, but could nail the look of low-rent mixed with sweetness.
He carried the signature print - hydrangeas mixed with cigarette butts, actually - into the hair with clips of fresh purple flowers interspersed with plastic butts (very clever tough touch from stylist Zara Mirkin).
Everyone backstage who could lay their hands on the hairclips was wearing one, they will be the accessory of the month.
Styling was clean at the front, then slightly mussed and rumpled at the back to suggest that night of couch surfing. Greg wanted the girls to still look beautiful after their big night. He loosely relaxed the hair with flat-irons, then used KMS Dry Wax, mussing through with fingers to simulate the pillow-rub effect. A spray of KMS California Hair-Stay Medium Hold Hairspray and Silksheen Gloss Spray kept things together.
The boys had relaxed, finger-styled hair held with a squidge more of the of dry wax for texture, pieces pulled up high and ponytails folded into the backs of their necks. All the better to show off the lipstick kisses from the girls - a helluva lot classier than a love bite.
To finish - a phone number or two drawn on their hands (the product here? A very high tech Vivid felt pen).
Amber D for M.A.C's faces were all still beautiful - thanks, yes again, to Studio Sculpt foundation, but this time with Fix & Studio moisture fix lotion and Mineralize Skinfinish (oh, if only our skin could really look like this after a hard night).
The eyes were barely there perfect skin, just a bit shiny (Bone Beige and Emphasise) with Smoulder eye kohl and a touch of mascara.
And a delicious new product we just wanted to steal: Marked For Glamour Superslide liner, a super-slick metallicised liquid liner around the top and bottom. Like wet patent pewter.
Lip Erase on the lips, with a tiny bit of conditioner (they'd left their lipstick all over the boys, after all).
TRY THIS AT HOME: There is nothing like the look of perfectly applied eyeliner. The new M.A.C Superslide has an impeccable brush and a smooth formula, all you have to supply is the steady, steady hand. You don't really want to look like you've spent the night on the couch.