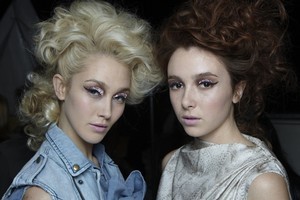 When the invites to the Trelise Cooper show feature stained glass windows of Botticelli angels frolicking (well, I think they were Botticelli, they could well have been Raphael, it's been a long time since sixth form Art History, I confess), you could rightly expect a bit of a Renaissance theme to the show.
The brief to M.A.C creative director Amber D, and to Grant Bettjeman for hair was for angelic girls: soft but powerful.
"Yes, I was briefed Botticelli, but I wanted a modern twist," says Grant.
"Romantic, ethereal and something historic/architectural, but I wanted it to have more of an edge, and bigger and fuller."
A mountain of L'Oreal Infinium hairspray, plenty of Techni Art fixed design held the multiple sections of the hair that had been crimped and rick-racked for texture, then backcombed and built up in gorgeous fuzzy piles on the top of the head. Back hair was pulled back into the bottom of the head with a loose ponytail.
The hairpieces - teased and frizzed and tied with more of their own hair into bunches down their length - were twisted into the back of the neck for the Cooper part of the show (younger, hipper) and then dropped down the back reaching almost to the girls' waists for the Trelise Cooper show.
The thoughtful touch was the hair pulled tight back at the temples so that the clean lines of the girls' cheeks and brows showed - somehow big and clean at the same time.
Amber D took the brief of angelic girls, soft but powerful. The porcelain base of Sculpt foundation does have the luminescence of a fresco so that the toughness of the eyes became the focus.
Wedge and Espresso eyeshadows, and boot black liquid liner, lashing of #7 lashes and boot black liquid liner created the frame. But let's face it, an eyeful of Swarovski crystals is what we were really focusing on (there were some platinum and fuchsia pigments in there somewhere). Painstaking, but so pretty on the runway.
Cheeks had a dash of pink swoon blush with pearl and luna crème colour for shimmer. And I was wrong about the lipstick (I'd guessed vivid red or pink) but Amber was cleverer than that - a soft, pretty pink of Snob lipstick.
TRY THIS AT HOME: With all of summer's blush chiffons, ruffles and prim sorbets, a pale pink face is the obvious go-with. But harden it up with the eyes - a sharp eye liner, a good dash of black black mascara (and, why not, for evening a few crystals around the lash line?) so you don't look like you've just stepped out of the nunnery.