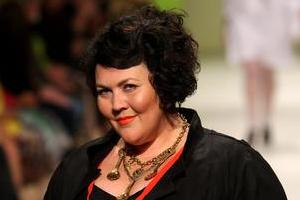 Marie Antoinette celebrated life, and colour, and shapes and cakes - an apt inspiration for the happiest range from The Carpenter's Daughter.
While the hair and makeup team avoided big white wigs, they sure channelled her zest for life with big hair and bright faces.
Hair
Amy Max of Total Care Hair and Beauty took designer Caroline Mar's brief for "big girls with big hair" with a Fifties twist and produced over-scaled hair that worked - and not just for the runway.
Even the girls with short straighter bobs were given a boost with a beaut big back-comb, then smoothed over the top.
But it was the curly-girls who got the full French court treatment - masses of backcombing, fingers used to create a roughened back and a twist or quiff in front.
Some even had those famous, queenly ringlets twisted over the shoulder.
Makeup
Abigail McEwan from Samara Robinson Academy wanted to get a stagey, makeupy look, so went for a medium to heavy base, with a lot of powder over the top (the versatility of the M.A.C Face and Body Pro with sculpting from the new Sculpt). She worked in plenty of powder, then very subtly worked concealer with M.A.C's perfect brush - a soft, rounded head for seamless blending.
She went much heavier with the mineralised blush on the apple of the cheek, switching between peachy and pinky tones.
The eyes had it though: a fabulous combination of the #44 long feathery false eyelash, boosted with the less extreme #46 or #2 - butterflies fluttering out the corners of the eyes.
From the runway the effect was sparkling.
Lashing of Hot Pink or Bright Orange lipstick and we're done.
These non-model models to a woman looked fresh, sparkling and delighted with their look - and it showed when they walked the TCD clothes.
Take home tip
Forget flat and sensible "street hair". Special occasions call for big effort hair, so don't be afraid to tease and back-comb volume (a good spray like the Wella Styling Spray can hold your hair practically vertical), then smooth and shape it back down.
It worked for Jackie Kennedy, it'll work for you.