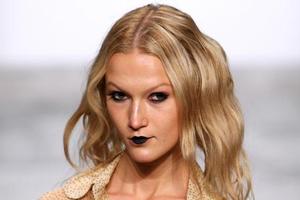 Even when one is swanning from yacht to swimming pool to parties at the Riviera, one still needs to keep up appearances. So Adrian Hailwood's inspiration of Forties Hollywood meets insouciant bathing lovelies at the Riviera just had to have the witty twist you'd expect from him.
Hair
This has been one fabulous fashion week for Big Hair, finger waves, pin curl sets and all those old-fashioned techniques your mother used to use.
Backstage started to look like my childhood ballet competitions: I fully expected to turn the corner to find a mum hissing at some tearful girl as she unwound the ringlets from their rags and jammed a tiara on the poor child's head.
Lauren Gunn's Stephen Marr team are, thankfully, a whole lot more good humoured and relaxed.
To recreate the feel of the Forties, they were crimping the hair - these days it's all hot tongs and plenty of Sebastian Reshaper - pinning it into huge Veronica Lake waves until it was dry enough to brush into beautiful big soft curves.
Hailwood was adding a few satin turbans to finish the languid beauty at the Riviera look as he sent the girls down the runway.
Makeup
Beautiful, dewy natural face was the look of the day (the girls have still got remarkably good skin after days of makeup torture).
The M.A.C team shaped the girls' faces with Face and Body Foundation, contouring with Uncommon cream blusher for a fresh, non-powdery finish.
Then black, black eyes - a slim line under the eyes on the water line only, a slick of liner on the top lid and va va voom big lashes (M.A.C #12, if you must, long and feathery, with a charming fan at the outer edges).
Then the lip was just a teensy cupid's bow (the outer edges of the lips covered by Lip Erase) meticulously brushed on in black Lipmix.
Take home tip
We said it after Trelise and we'll say it again, this is the season to have real, painted-on lips - leave the lip-gloss to the school girls.
Go back to the makeup counter to find the right creamy formula for your lips, find the best lip brush you can (a crisp edge is a must) then practise, practise, practise.
Oh, and try a bit of colour to go with the poppy colours you'll be wearing this season.