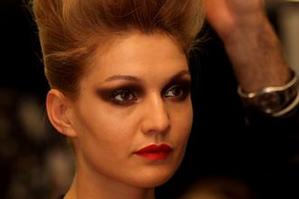 Cooper by Trelise and the Trelise Cooper collections both channelled powerful, sassy women.
The Cooper girl had the grooviest war - think the Kiera Knightly Atonement movie, but with way better shoes - while her Trelise Cooper sisters were modern dandies, masculine/feminine, sculptured or delicate. And all very, very covetable, very city smart.

Hair

In two words, Grant Bettjeman sums up the picture he was creating for Trelise with the hair: "dramatised, deconstructed".
A Trelise show wouldn't be the same without his big, statement up-dos, but this time he went more elegant and polished.
Starting with the Thirties/Forties feel of the movie, but going large, Grant's team teased up the tallest quiffs in front (some, truly, the size of the model's face), with a hint of a little bit rough in a Marie Antoinette (to mix our movie metaphors) kind of way.
At the back, the war-time French roll was smoothed and polished and tucked to perfection with the help of L'Orèal Infinium Ultimate spray, a good product for easy molding and working.
The do was held together through 16 - that's not a misprint - clothing changes per model with L'Orèal's Tech Airfix hairspray ("the big guns" as one of the stylists says).

Makeup

More M.A.C makeup perfection. Just when you thought you'd seen it all for that old smoky eye look, Amber D and her team made it completely modern and fresh and wearable (but only if your night includes some pretty spectacular hair, teetering shoes and a drop dead dress - for the office this ain't).
The perfectly pale face, then the strong eye started with a tan pigment brushed on to the lid only (it read gold on the face).
Smokey shading and contouring around the eye, with an exaggerated sweep of cat-eye at the outer corners was harder to get right than it looked: Amber seemed to spend as much time meticulously brushing and contouring, working the shape, as she did applying the colour.
A lick of eyeliner and mascara, a teeny touch of gold on the lower eyeline for some girls. And then - oooh, what a loverly war - the spectacular red lip: M.A.C's red lip was made from a mix of red and fuchsia Lipmix, applied by brush in the cleanest line ever.

Take home tip
There are red lips and then there are perfect red lips. This requires practice and professional products, but is worth the effort. M.A.C Pro Lipmix is a highly pigmented opaque cream which dries to the perfect lip. Mix the colour on the back of your hand and dip the sharpest lined lip brush you have to control colour and line. Brilliant.