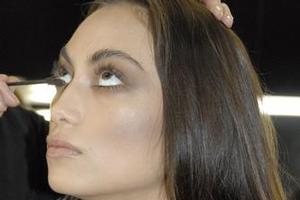 Andrea Moore's signature look is colour, pattern and for the girls. So for her Air New Zealand Fashion Week collection her show creative director Jackie Meiring (yes, she's also bringing her photographer's eye to the styling) she wanted a look that showed off a feminine neck and shoulders, with a striking, but pared back, face.
Hair
Sara Allsop from Dharma hair salon called in some of the top owners from other salons to help her create her look. They combined smooth and structured sides and back of the hair, but with some "noise" of a tousled bun.
In profile it creates as good a look as front on, important for the runway audience.
She used Ultima Reflection Spray for the gloss through the sides, tying up to a top pony tail.
Sectioning off the hair, back-combing it, then loosely twisting into a bun gives the tousled, noisy look (fluffing with expert fingers helps, of course).
Think the Eighties dance movies, Fame or Dirty Dancing and you get the picture.
Makeup
With Bobbi Brown doing the makeup, you know the look will be her signature clean, natural and a no-makeup look.
Sure enough, Leisa Welch from Bobbi Brown created a gentle, contoured face - no hard lines, soft and blended. She used tonal bronzers around the eyes and cheeks - same product, different brushes - blending, blending, blending different intensities up and around the cheekbone and a slick of highlight for standout.
Then just a lick of black mascara. The trick is the brow, pushed up and feathered using clear brow gel - opening up the eye, doe-like and pretty.
And the nude lip is started with a clear skin tone and washed with red - for colour, but more like a kiss stain than a paint stain (burnt red, brushed on, blotted off).
Take home tip
Work the brow into something pretty and natural: use clear brow gel and then feather the top line of the brow. Surprisingly pretty.