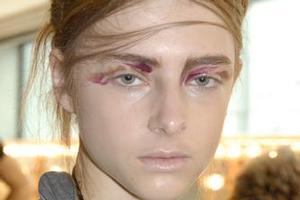 When the theme of a show is girl-hood on the cusp of transition into woman-hood, innocence into worldliness (well, as much as fifteen-year old gazelles can show), you know there will be some intellect behind the hair and makeup - as much as the intellect of the clothes, of course, from Nom*D.
Hair
Stephen Marr's Lauren Gunn worked with the creative team on the story-telling, delving into the world of the Amish where young girls are taken out into the world for one day before making the choice to re-join their community as women.
"This was really conceptual, a lovely thing to illustrate, but we were not going to go super-literal, we just wanted to capture a naivety to the head," she explains.
Her response was a modern, surprisingly wearable version of a wig-wrap: the girls' hair was twisted flat around the head to reveal small skulls on waif-like necks, clipped, mussed and very, very fragile.
To complete the theme, a few wore Amish-style scarves - possibly not a look you'd want to copy at home, unless you plan joining a cult any time soon.
Makeup
Niesha Henry's makeup team from SmashBox took the same theme to create fragile faces that were a bit loose and free.
The team from Dermalogica were on hand to cleanse and soothe the girls' skins, working with products for sensitised skin, as a day of shows was already taking its toll.
Importantly, they created a very dewy finish (using Skin Smoothing Cream) for the luminous skin look, really youthful and clean.
Barely-there faces were the base for what Neisha describes as "wolfy" eyebrows, filled and brushed out to frame the piece de resistance, crazy "freelance" eyes.
Each artist played with her girls' faces, striping on splashes of chocolate and cabernet in painterly or geometrics (wet and brushed on SingleEye shadow). No lips, just dewy natural beauty.
Take home tip
If you have the bone structure, eyes don't always need the standard mascara/liner/smudgy shadow combo to stand out. Play with a well-placed stripe for the nights when you want to move away from the crowd: immaculate brush control is essential, no smudging allowed.