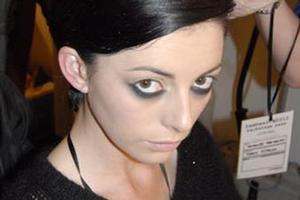 One day I'll be a Zambesi person, spending my winters stomping about bleak moors, reading Jack Kerouac, going to my friends' installations in groovy warehouses in the back of Grey Lynn. Cool, dark, and very very clever.

Hair
When you've worked with the Zambesi guys for over twelve years, as Greg Murrell from Ryder Salon has done, you're bound to completely get their aesthetic. And when the brief is super-straight hair, not hanging about the girls' faces, you don't merely comb the hair back.
You do something clever and Zambesi-like and totally sharp: sleek back the hair and stitch the hair into the nape of the neck (yes, actual needles and threads and a smocking-type weave - don't even think how you'll undo that at the end of the night) to create the cleanest, most sculptural look we'd seen all day.
The crown hair is pulled back, flattened and twisted so there is nothing coming forward, but still a little movement to the front (the reason why became apparent when the models were projected on mega-sized screens as a back drop to the stage).
The boys' hair was to look "grooved", like someone had run their fingers through their soft, pretty locks (if only we'd had the chance).
Makeup
Amber D's M.A.C team also knows their Zambesi ropes, going for simple, simple makeup: a light base skin with Studio Sculpt, one loose black shadow under the eye and some soft highlights on skin and eyebrow in nude cream, a little of the same on the lips.
That's all - well, that plus a clear casting decision to find girls with an Eastern European, slightly dark-but-cheekboney look. And boys who were even more beautiful than the girls, in a broody Heathcliff-y way.
Take home tips
You may not have an embroiderer on hand to stitch your locks to your head, but you can think sleek, pulled-back bottom hair, with a twisted bun or ponytail on top.
Work on your cheekbones and do not do the Kiwi-girl dangling hair in front of your face thing.