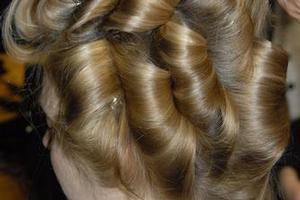 We love it when a designer has a back-story for her collection, and this winter Alexandra Owen has channelled healthy English gels, just in from an invigorating horse ride.
She's a beauty, her clothes are beautiful, tailored, understated, her makeup fresh faced.
One can imagine her hurtling inside for tea and crumpets, the dogs yapping around her heels, the chauffeur has been dispatched to collect a chap called Gerald due up from London on the 6 o'clock train.
So Amy from M.A.C has created the perfect peaches and cream English skin (with the help of Pearl cream cover and a pearlescent, natural highlight for glowing cheeks).
The eyes have more Pearl cream, the brow is darkened, and then a slim, subtle (these gels are never showy) line of Boot Black eyeliner.
Lip erase creates the palest, most natural lip, glazed in a healthy way with glossy Florabundence. Mummy would approve.
Lauren Gunn from Stephen Marr took the sensible, make-do Forties and modernised it.
Hair is sectioned all the way through the fringe and crown in an updated take on the Victory Roll: the modern gloss is achieved with mousse, dried off to maximise the texture and the volume.
The result is wearable, English and fresh.
Take home tip
Pale natural skin doesn't mean naked. Look for a foundation that creates a dewy coverage, but be sure to update and darken it as your skin takes on more summer colour.