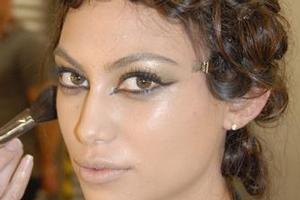 The instructions to Annah Stretton's creative crew says it all: "Think of the infamous Forties burlesque dancer, Freda Stark".
A crew of red sequin-clad usherettes hints at Busby Berkley girls ("No, we're not tap dancers" they squeal, but the glittery red shoes suggest otherwise).
The hair is certainly old-school with a twist: Richard Kavanah's hair team have coaxed teensy tiny pin curls out of every girl's hair (the secret is to set the curls with a flat iron, then keep them pinned until they are cool).
He then brushes them out and stitches and pins the hair into gorgeous wavy, full bobs. A few licks of wiggly pin curls around the forehead complete the look.
The girls from New Zealand's own Phoenix makeup - a crew of girls in pink satin jackets a la the Pink Ladies of Grease, headed by Phoenix Renata - works the Forties look.
The focus is on the eye, glossed from eyelash to brow in Phoenix gold pigment, with black pencil outlining the entire rim of the eye (a brow gets darkened too).
The Super Active foundation is matched to skin tones, with bronzer on the cheek bone for gloss.
To finish, a completely nude lip (Phoenix's is called, appropriately, Undressed).
Phoenix's range is made in New York and Italy, but coloured for New Zealand complexions and light - nice.
Take home tip
Real lipstick is coming into its own this summer. Phoenix is raving about her brights - a bright orange called Tangerine, a pink called Flamingo. Bring back sexy lips, we say.