Two millionth 'green' engine rolls off production line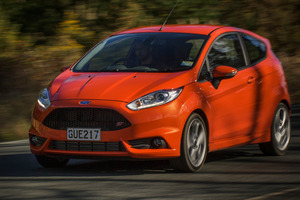 Ford is celebrating a milestone with two million of its award-winning EcoBoost engines produced since its launch in 2009. Output is averaging more than 100,000 engines a month, up from 65,000 last year.
"Ford EcoBoost delivers great performance with lower fuel bills, a recipe which is proving incredibly popular with consumers around the world," said Joe Bakaj, vice- president, powertrain engineering, at Ford USA.
"EcoBoost engines are attracting new customers to the Ford brand every day, and our plants are working hard to keep up with demand."
A Ford Escape (badged as the Kuga in New Zealand), was fitted with the two-millionth production EcoBoost unit and rolled off Ford's Louisville, US, assembly line.
Ford's EcoBoost engines include the 1-litre three-cylinder; the 1.5-litre, 1.6-litre and 2.0-litre four-cylinder engines; and the powerful and efficient 3.5-litre V6.
In Asia Pacific, sales of EcoBoost vehicles through to August are up 202 per cent year-over-year in 2013, including a 189 per cent rise in China. Ford plans to offer the fuel-efficient engine in 20 vehicles in the region by mid-decade, a five-fold increase from 2012.
In Europe, exceptional demand for the 1.0-litre EcoBoost engine - International Engine of the Year 2012 and 2013 - is fuelling a doubling of production capacity at the Cologne, Germany, engine plant to more than 1000 engines a day.
Already available on five European nameplates, the 1.0-litre engine will be fitted to 11 models by 2014. The three-cylinder unit is being chosen by a growing share of customers during 2013, accounting for 43 per cent of B-MAX sales, 32 per cent for Focus, 26 per cent for Fiesta; and 24 per cent for C-MAX and Grand C-MAX sales.
EcoBoost powertrains also are driving high demand for the Fiesta ST (1.6-litre EcoBoost) and Focus ST (2.0-litre EcoBoost), while 18 per cent of customers for the Ford Kuga are selecting the 1.6-litre EcoBoost option in a segment which traditionally favours diesel engines. Nearly 40 per cent more European customers are familiar with EcoBoost technology today compared to 2011.
The Cologne plant also has begun production of the 1-litre EcoBoost for the North American market. The new 2014 Ford Fiesta - on sale this year - will be the first vehicle available in the US with the 1-litre engine.