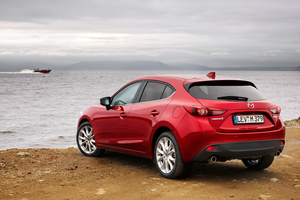 It's definitely the wrong way and long way to get to the Frankfurt Motor Show but Mazda has decided to drive its new hatchback to Germany via Hiroshima.
Eight brand-new Mazda3s have completed the first hurdle in the "Mazda Route3 - Hiroshima to Frankfurt Challenger Tour 2013", the Sea of Japan.
They are now in Vladivostok, the starting point for the road portion of the trip.
Participants for the first overland stage of the 15,000km test drive have also arrived in the Russian Far East.
People from Britain, the Czech Republic, Germany, Italy and Australia will be driving the first of seven overland legs spanning nine time zones and almost half the circumference of the globe.
Stage one will cover 1400km, concluding after three days at a regional centre called Blagoveshchensk.
The route runs parallel to and often within view of the Chinese border.
The Mazda3 hatchbacks have the SkyActiv-G 2-petrol engines for the journey from the Hofu factory near Hiroshima to Russia's largest Pacific port with the help of a 17,000-tonne ship.
The cars are scheduled to turn up in Frankfurt on September 7. Their progress and adventures can be followed online at www.mazdaroute3.eu or via Twitter at #mazdaroute3.
"It will probably come as no surprise that we at Mazda are thoroughly convinced these cars are every bit up to the unconventional challenge," says Mazda Motor Europe vice-president communications Wojciech Halarewicz.
"But there is nothing like letting others see for themselves how impressive the new Mazda3 truly is."