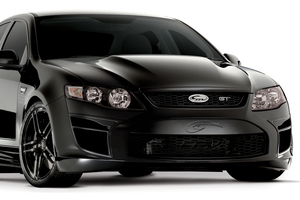 Big cars were goneburger - or so we thought. We've just seen the covers come off the next Holden Commodore - still big, possibly more efficient, but the under-lid details are still top secret. Now Ford has kicked off its FPV programme after it collapsed.
The first Ford GT assembled at the company's Aussie Broadmeadows plant in nearly four decades has rolled off the production line. The collapse of the Ford Performance Vehicles joint venture between Ford Australia and Prodrive led to the high-output versions of the Falcon being produced in-house. It has now created a dedicated production line at Broadmeadows. The company's Geelong engine plant is also set to start building the "Miami" V8 - the supercharged quad-cam 335kW engine fitted to GT, GT-E and GT-P models - as well as the 310kW six cylinder from the stroppy F6. But is Ford wasting its time bringing the saloon colossus back into the fold?
There has been much debate on the future of the Falcon, as larger cars drop off buyers' radar to be replaced by smaller machines with more advanced, lower displacement engines. Ford's own Focus ST, featuring a tweaked version of the two-litre EcoBoost engine that's also fitted to the Falcon, is a perfect example of where the next generation of performance vehicle is heading.
Small and light don't really sum up V8 Falcons, and the likelihood of it continuing much past 2016 is slim. The front-drive Taurus and its global platform are odds-on to replace the icon Aussie sedan.
So whether this move to Broadmeadows is going to see FPV experience a sudden growth spurt remains to be seen, but doesn't take a genius to figure it out. Ford has been loathe to reveal future plans for the go-fast marque - will it keep popping out 335kW V8s or move towards smaller machines. The Focus ST was pretty well received, and for good reason. The upcoming Fiesta ST will be in the same boat.
Are these clever little modern engines, combined with lightweight construction going to be the way of the future, or do big V8s fitted to big cars still have their place?