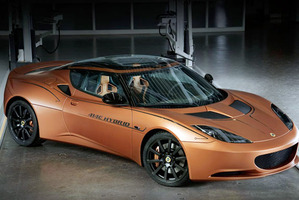 The word going around is that Lotus might try faking it in the forthcoming Evora 414E extended-range plug-in sports car.
Being electric and thus quiet, Lotus is said to be considering adding not only some sporting sound effects, but programming the computer to momentarily cut power under acceleration to simulate the gear-shifting process.
That way, drivers could make believe they're driving a car with a conventional gear-based transmission. Some commentators are already scorning Lotus, but Good Oil wonders what's the different between fake shifts in an electric car and artificial gear change points and a "manual gate" on CVT-equipped vehicles?
Fake shifts or not, the Evora EREV is no slowcoach, with a 0-100 time of four seconds.

Truckin' for the planet
Ford's thinking big, really big, in its One Ford global streamlining strategy. Unveiled in Sao Paulo, Brazil, this new generation of Ford's Cargo is designed to meet the needs of truckers around the world. Competing in the extra heavy-duty segment, this big boy was
developed jointly by Ford engineering teams in Brazil, Turkey and Europe. However, in a replay of the Ford Ranger ute marketing strategy, it's not bound for North America. Specifics are yet to be released, but Ford is promising a new engine allowing hauling capability of up to 56 tonnes while still returning excellent fuel economy.

Nissan gets it X-actly right
The Australasian launch of Nissan's luxurious new Patrol is little more than a week away, but there's also behind-the-scenes action at the other end of the company's SUV range.
Pictures doing the rounds show this Nissan SUV, based largely on the 2012 Hi-Cross Concept, and the word is that it's pretty much what the next X-Trail will look like. Bets are that Nissan will show it at the Geneva Motor Show in March. Nissan pulled the
wraps from its Gen 2 X-Trail to gasps of disbelief ... because stylists went out of their way too make it look almost like the original model.

Russians make Land Cruiser cool
Toyota's Land Cruiser is the coolest SUV in Russia. Artists at the International Snow and Ice Festival in Perm took a huge chunk of ice and shaved it into the sub-zero SUV, complete with a full interior reached by the driver's side door. And yes, the door is permanently frozen open.
The steering wheel and seats seem to be upholstered in dirt. With the back seats removed, the frigid SUV is a pretty slick ride in which to chill out, reports our Russian
punster, er, pundit.

Artist floats idea
What if by some strange quirk of human stupidity, we developed all the technology we have today ... but not the wheel? That idea seems to have led French photographer
Renaud Marion to create a six-image series called Air Drive.
The shots depict cars through the years that look normal except that they have no wheels. The odd set comprises a Jaguar XK120, Cadillac DeVille, Chevrolet El Camino and
Camaro, and Mercedes-Benz SL and 300 roadsters. Good Oil's sending Monsieur Marion a list of front lawns and backyards with wheel-less cars in Auckland in case he wants to do a follow-up series. He could call it the best of the rust, er, rest.

We are the world
*The Chinese fashion designer calling herself Ms Lv says her sales have quintupled since she began using her 72-year-old grandfather to model her clothing styles for girls. ''It's helping my granddaughter,'' Liu Xianping said.
''I'm very old and I have nothing to lose.'' Not even dignity?
*British medical illustrator Emily Evans created eight expensive bone china dinner plates with images of tissue slides of the human liver, thyroid, oesophagus and testicles. A shop in St Bart's Pathology Museum offered cupcakes, the icing crafted to resemble the lesions, boils and warts of gonorrhoea and other maladies.
*We scoff at those SPCA dogs that can drive: biologist Phil Torres, working from Tambopata national park in Peru, witnessed a tiny Cyclosa spider construct a replica
of an eight-legged spider in a web made of leaves, debris and dead insects. Since the real spider was found nearby, Torres hypothesised that the wily arachnid had built a decoy to confuse predators.
*China's Jiangdu District kindergarten requires teachers to hug each pupil twice a day, but only if the parent has paid the monthly ''hugging fee'' of about $15. One teacher defended it as boosting a child's confidence and setting a good mood for learning. An inquiry
is under way.

Too dry for popular 4WD park
If you go down to the woods today you're sure of a big surprise especially in a 4WD. With January rainfall only 10 per cent of normal, the forest has become too dry, not only for picnicking teddy bears.
Jeep Woodhill 4WD Park, one of the few places in the Auckland area where 4WD enthusiasts can actually get off-road, has been closed for now due to the fire risk.
Also victim of the fire danger is Wilson Rd, a popular 4WD access to northern Muriwai Beach. Oh well, off to the mall for some curb hopping.

Number Crunching
2.3 SECONDS Fastest production car's 0-100km/h time; Ariel Atom.
10,500 RPM Highest redline on a production car, the Ariel Atom.
55.6 SECONDS The Bugatti Veyron Super Sport's 0-400km/h.
14,000 RPM Redline on the Tesla Roadster electric sports car.