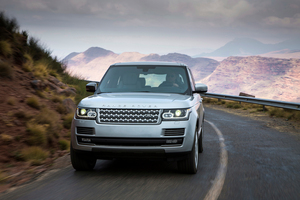 Jaguar Land Rover gave the British carmaking industry a much-needed lift as the luxury motor manufacturer announced 800 new jobs at its factory in Solihull, Birmingham.
Just days after Honda sent shockwaves through the UK car industry by announcing 800 job cuts in Swindon, Jaguar Land Rover said demand for its luxury vehicles from countries such as China, the US and Russia was now so strong that it would be recruiting additional staff.
The Solihull plant makes the Range Rover, Discovery and Defender models.
Jaguar Land Rover revealed plans to beef up the plant as it reported a 30 per cent surge in global sales to a record 357,773 vehicles last year.
China became the group's biggest market last year, overtaking the UK after sales to the country soared by 71 per cent to 71,940 vehicles. The UK came next, with sales increasing 19 per cent to a record 68,333, followed by the US, up 11 per cent at 55,675.
Sales to Russia and Germany increased by 43 and 41 per cent respectively.
Speaking as the Detroit auto show kicked off, Phil Popham, Jaguar Land Rover's director of group sales, said: "2012 has been a strong year Looking ahead to 2013, we are continuing to invest in our business to support our ambitious plans for growth and we will be introducing eight new or refreshed products throughout the year."
The new jobs continue a remarkable turnaround at Jaguar Land Rover since India's Tata Motors bought the company from Ford in 2008.
At that point the company was struggling as the credit crisis had hit sales hard and was making about 100,000 cars a year.
But Tata injected cash into the business and sales rebounded. The company is now two years into a five-year expansion plan with a target of making 600,000 sales a year. Expansion includes the launch of a sporty new Range Rover, expected to be unveiled in April.
Demand for luxury products is holding up well, especially in fast-growing markets such as China and Russia.
Honda, in contrast, blamed weak demand in Europe as it cut jobs at Swindon. It was the first time Honda had cut its workforce at the plant - which produces the Civic, Jazz and CR-V models - since it came to the UK in 1992.
The redundancies raised fears there could be more job losses in the mainstream UK vehicle-making industry, with demand in Europe at its weakest for nearly two decades and the market showing little sign of recovery.
The UK exports 82 per cent of the cars it makes, of which about half go to Europe.
-Independent