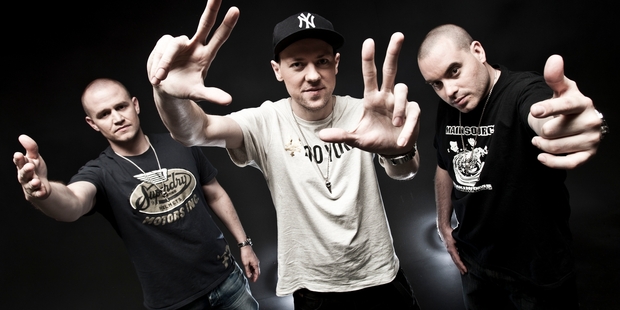 Aussie rap crew Hilltop Hoods are so big at home they make newspaper headlines just by going out for lunch.
That's what happened when the yum cha restaurant in which two of the act's three members were dining caught fire last month, sparking excitable news reports like: "Hilltop Hoods flee blaze with diners".
Don't worry - they're all fine now, laughs Daniel Smith, aka MC Pressure, when TimeOut inquires about injuries.
"It's amazing how the TV news channels exaggerate these things. Everyone's fine. It was just a gas fire in one of the bain-maries in a Chinese restaurant. It could have turned dangerous, but it didn't," he explains.
"It's Adelaide - sometimes they like to make a big deal about these things."
The fact the incident made national headlines shows just how big a deal the rap trio is at home.
After 15 years and six albums together, Smith - with his bandmates MC Suffa and DJ Debris - frequently win Aria Awards, headline festivals and watch their singles go double or triple platinum.
But, despite the crossover success of Kiwi artists Scribe and Savage to Australia, the Hilltop Hoods haven't managed the same translation to New Zealand, remaining relatively unknown.
That's something they're trying to change with an upcoming four-date tour at the end of the month. It's just their second tour here, along with a sole Big Day Out appearance, since their debut album was released in 1999.
"It's a lot of work breaking into the music scene in a new country. We made the decision to give New Zealand a proper go two or three years ago, and no regrets," says Smith.
"We had a sold out tour last time we were there. We had no idea how we'd go. New Zealand is so close to Australia and there's such a vast distance in hip-hop culture [but] the shows were wicked, there was fantastic energy and we're stoked to come back."
New Zealand fans are to be among the first in the world to hear their "progressive and mature" songs from new album Walking Under Stars, due out later this year.
Smith says it's a "very polished, very progressive" album - a far cry from their first recordings they made when they were starting out at High School.
"Suffa and I were both alpha males (at school) and we wanted to fight, but we became best mates. We started making music - it was a joke at first. We wrote raps about our history teacher, and it just kind of grew."
Don't expect to hear that or any material from their first two albums - Smith says he's embarrassed by the band's early songs and they don't play them.
"Our sound has matured and changed so much. I sometimes listen to that old music and cringe. It's not that I'm morally against anything I'm saying, it's just unpolished music from kids."
Now they make the kind of music that inspires their rabid Australian fanbase to get tattoos of the band's faces on their body. Not that Smith is encouraging that kind of behaviour.
"We've got a Facebook gallery of 50-60 people with tattoos of either lines from our music or graphics from our art. There are a couple of faces. I met a guy who had my face and what do you say to that except, 'Crap, do I look like that?'"
Who: Aussie rap brats Hilltop Hoods
Where: June 25 & 26 at The Find in Queenstown; June 27 at The Platform in Auckland; and June 28 at the San Francisco Bath House in Wellington.
- TimeOut