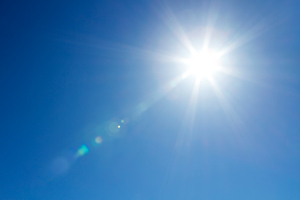 Brisbane was on track yesterday to sweat through its hottest January day since 1940 as the heatwave scorching the state smashed records.
The heat that has been bearing down on western and central Queensland for weeks will surge towards the southeast coast today.
The last time the mercury cracked 41C in Brisbane was on January 29, 1940, with 41.3C.
The hottest day in Brisbane was on January 26, 1940, when it hit 43.2C.
Yesterday, record highs were set in a string of towns in central and western Queensland. Windorah hit 48C, St George was 47.2C, Cunnamulla 47.2C, Goondiwindi 45.9C, Roma 45.8C and Surat 44.8C.
Record high overnight minimum temperatures broken in Longreach (30.7C), Mitchell (29.7C), Surat (29.4C) and Roma (29.2C) on Friday morning.
Yesterday an alert was issued for Queensland's North Stradbroke Island where a large bushfire was burning. Queensland Fire and Emergency Services says a large fire on the southwestern side of Alfred Martin Way is moving slowly southeast.
An expected wind change was likely to push the bushfire northwest.
On Friday campers and miners in the Dunwich area were asked to leave after the fire jumped containment lines.
Meanwhile, residents on the mainland and southern Moreton Bay Islands are being asked to conserve water after a treatment plant was damaged on North Stradbroke Island.
- AAP