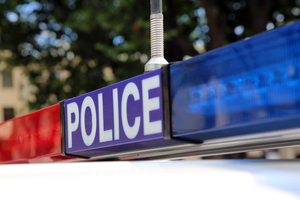 Police officers who risked their lives by entering a burning building in Sydney's west to search for people trapped inside have been praised as heroes.
Two men, aged 40 and 60, and eight police officers are in hospital following an explosion and fire at Wentworthville just after 4.15am (AEDT) today.
One of the men managed to scramble free of the rubble when police arrived, while the other man was pulled to safety by fire and rescue crews.
In the chaos, it was feared two more people were still in the building, but police now believe that is not the case.
Assistant Commissioner Denis Clifford praised the actions of officers who were first on the scene and tried to enter the burning building without any protective gear.
"As far as the actions of police are concerned, it was nothing short of heroic," Mr Clifford told reporters at Wentworthville.
"A number of times police entered and then re-entered the building, driven back by intense heat and flames, and their actions were courageous.
"I've got no doubt had they not have done that we could have had a fatality on our hands."
He said fire investigators were still to confirm no more people were in the collapsed building.
"They will carefully go through the building to establish beyond doubt that there's no one else trapped in the building," he said.
He said the cause of the fire was yet to be identified, and he could not confirm a large amount of cooking oil had been stored in the building.
Earlier, fire and rescue said the two rescued men were found about 20 metres from each other and had been on the building's second floor before it collapsed.
The police officers taken to hospital suffered smoke inhalation trying to reach the occupants.
It's understood the two-storey building comprised residential units on top of a Middle Eastern food shop.
The Station Street building has completely caved in as a result of the blaze.
Police have declared the area a crime scene and are treating the blaze as suspicious.
They don't know if the explosion caused, or was a consequence of, the fire.
Neighbours said it could be heard and felt from streets away.
"There was a loud explosion and I woke up to my house shaking and then all this popping noise and then all the people screaming," local woman Colleen told Fairfax Radio.
Do you know anyone affected by the blast? Send your story, photos or video here.
- AAP