Leah McLennan spends two nights sampling the array of relaxation options on offer at Sir Richard Branson's heart-shaped Australian getaway.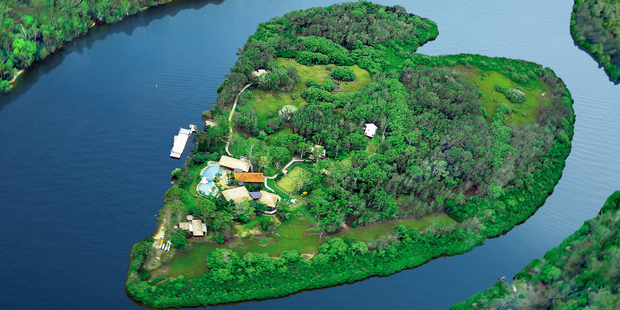 The reclusive spinster Hannah Makepeace could never have imagined that one day a British billionaire would be having a fabulous time in a grand resort on her namesake island.
How surprised the housekeeper would be to hear that in 2003 her beloved island was bought by Sir Richard Branson and Brett Godfrey (former CEO of Virgin Australia) and reincarnated as a Balinese resort.
Back in 1924 Hannah moved to Pig Island, as it was previously known, to work for Mr and Mrs Nicholas. She later inherited the island from her long-time employees, who had no children.
This nine-hectare, heart-shaped, subtropical island - once home to just one rambling white Queenslander that Hannah lived in until she passed away aged 89 - now boasts a cluster of Balinese-inspired dwellings and is one of Australia's most exclusive private island rental escapes.
Usually private island resorts are hard to get to, but Makepeace is surprisingly easy - it's a 30-minute drive from the Sunshine Coast Airport or a 90-minute drive from Brisbane Airport.
When you arrive at Noosa Marina, there's a zippy white boat waiting to be boarded and you're then whisked away by Makepeace staff to another world.
Then the fun begins.
There's Moët and hot towels on arrival. Butlers to carry your bags. A boat captain at your disposal. A chef to prepare whatever your taste buds desire. And plenty of places to sleep: there are 11 bedrooms to choose from - all with romance-inspiring four-poster canopy beds.
The overall feel of the place is open and comfortable - where you can just be yourself surrounded by family and friends. There are no other annoying guests because the place is entirely yours.
The only intruders as such are the wonderful, attentive staff, comprising Nick (manager and executive chef), Sarah, Dennis, Jason and Nic, all of whom become buddies within the brief time it takes to eat lunch.
By the time I've demolished a goat's cheese, fig and prosciutto salad and a luxurious chocolate tart, I've decided I want to stay longer than just two nights.
Fortunately, my list of must dos for this getaway is brief: catch up on sleep.
But on this island and beyond temptations abound.
There are small catamarans and kayaks, fishing rods at the Boat House, a tennis court, and a barge, known as an "aircraft carrier", where you can have parties.
There's an enticing collection of coffee-table books to be read under lofty coconut palms, dozens of large stone Hindu statues to photograph and a lovely pool with a 15-person spa.
Just deciding where and how to relax is difficult - shall I wander to the open-sided wantilan (village meeting place) for a game of chess on the giant marble set?
Sit in the Long House, home to the bar, and play on the range of musical instruments (piano, gamelan and bongos)?
Maybe I should take a rest in the four-bedroom Bali house or relax in one of the two-bedroom villas with traditional thatched roofs, granite baths and indoor goldfish ponds?
And then there's Noosa.
One of the benefits of this location, unlike other remote private islands, is that you can have your seclusion, but are just 10 minutes from a fancy seaside town.
Noosa can easily keep one busy spending money for hours with its ritzy day spas, city-trained baristas and cosmopolitan boutiques.
I never quite make it to Noosa during my stay on Makepeace - each time I planned to venture out, the afternoon refreshments, hor d'oeuvres or sundowners were served.
So what would Hannah think of washing down a seared scallop and three-citrus salsa with a mojito or slurping on oysters with champagne vinegar mignonette?
I doubt she could have ever conceived of such frivolities as an outdoor cinema, a synthetic grass flood-lit tennis court, a 500,000-litre lagoon pool and a helicopter landing pad on her little island.
Ms Hannah Makepeace would be astonished to see how the alchemy of time has transformed this islet from a place of isolation, hardship and hogs to one of romance, exclusivity and absolute indulgence.
IF YOU GO

Getting There
Fly there with Air New Zealand Book now
Find out more at Australia.com
- AAP