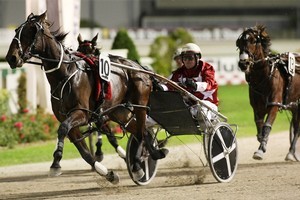 It is rare a lowly $6000 race at Cambridge attracts a group one winner, let alone two.
But the need for lead-up racing to far richer targets has brought two of the north's age-group pacing stars together in a race their trainers would never normally consider.
Open-class sweetheart Bettor Cover Lover will face a 30m handicap in the 2200m event, which against a normal Cambridge field would be little more than a jog in the park for her.
But standing 20m in front of her will be Northern Derby and Sales Series Pace winner Ideal Scott, which will probably guarantee him favouritism.
Ideal Scott is using this race as a tightener for the Harness Jewels at Cambridge in two weeks', while Bettor Cover Lover has even more immediate group one goals.
Not only is she the redhot favourite for the 4-year-old mare's division of the Jewels but her trainer Brent Mangos will squeeze a A$100,000 race in Melbourne tomorrow week in between.
"She is in the Queen of the Pacific over there and it is a standing start so this suits," said Mangos.
"It is a standing start and she has never had one on race night before and I want to get her some race experience behind the tapes.
"She actually trialled from a stand last week and was good but a race will help."
Mangos says Bettor Cover Lover, who was second to Terror To Love in the Taylor Mile last start, is fit enough to win tonight but a lot will depend on just how quickly she can hustle from behind the tapes.
She has the dual advantages of being alone off the 30m mark, with no rivals off 20m, so should be able to latch on to the back of the field quickly.
"I think it will all come down to how quickly.
"It is only 2200m and if she has to chase and then settle and the leaders sprint home it will become tricky.
"But she is ready to win, fitness-wise. So it really comes down to the start."
Ideal Scott is the better placed of the two stars as all he needs is a safe beginning and he should slot into a position from where he can control the race.
He is an outstanding colt, fit after a recent NSW Derby tilt and narrowly gets the nod in front of Bettor Cover Lover.
The pair aren't the only serious Jewels contenders on show as the Cambridge track counts down to its biggest meeting of the year in 16 days.
High-class 3-year-old Lotalov and Stent meet in the $20,000 Cambridge Trotting Stakes, which contains many of the better Jewels chances for that age group with the exception of division favourite Escapee.
Lotalov has been brilliant since coming north and thrashed the older trotters in near-national record time last Friday, while Stent has also been a big improver since joining the Mark Purdon stable.
So the race may be decided by who settles in front of whom.
Both races are legs of the Pick6 which should have a first-leg anchor in Yankeedoosie. She has bounced back to her best form and gets a 10m handicapping let-up tonight which puts her off the front line, from where if she leads she should win.